Ernesto Valverde talks Luis Suarez's worrying Champions League record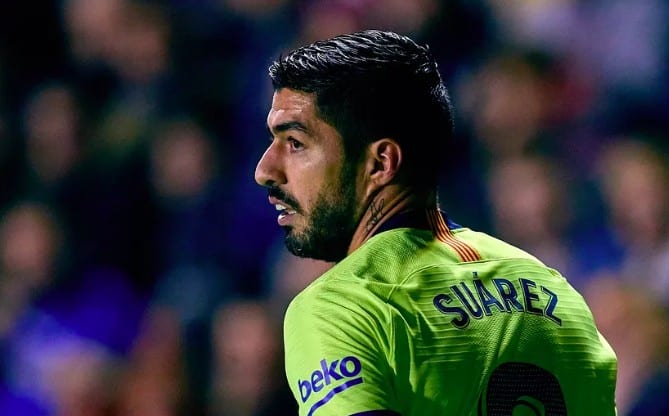 With Barcelona continuing their sluggish form in the final third in their 0-0 draw with Lyon on Tuesday, Luis Suarez is a man coming under increasing scrutiny at the Nou Camp.
After failing to find the net in Parc Olympique Lyonnais, the former Liverpool striker has now gone a staggering one thousand two hundred and fifty-three days (1,253) without scoring an away goal in the Champions League.
Now failing to register a European away goal since September 2016, the 32-year-old has even been described as a 'liability' and many believe it is time for Suarez to be dropped.
Luis Suárez has failed to score in his last 16 UCL away games:

❌ vs BATE
❌ vs Arsenal
❌ vs Atlético
❌ vs Gladbach
❌ vs Man City
❌ vs Celtic
❌ vs PSG
❌ vs Juve
❌ vs Sporting
❌ vs Olympiacos
❌ vs Juve
❌ vs Chelsea
❌ vs Roma
❌ vs Spurs
❌ vs Inter
❌ vs Lyon

— Squawka Football (@Squawka) February 19, 2019
Ernesto Valverde backs struggling Luis Suarez
Now over 24 hours of football since Suarez converted away from home in Europe, few would have expected his struggles in a tournament he had previously been so ruthless in.
After hitting seven goals en route to the Champions League crown as Barca won the treble in his debut season in 2014-15, Barca's #9 netted eight in the continental competition in 2015-16, but has only four goals in his 23 appearances in Europe since then.
Sadly for Suarez, although he may have made his 700th professional appearance against Valladolid on Saturday, some feel he is a player heading into his twilight years.
A season that has riddled with untimely injuries, Suarez has been unable to muster that almost telepathic relationship he had developed with Lionel Messi which was a big help for betting on Barcelona to win the Champions League since moving to the Nou Camp back in 2014.
However, despite his continued goal drought on the European stage, Suarez has received a public backing from Barcelona boss Ernesto Valverde.
Speaking after their stalemate in France on Tuesday, Valverde said:
"It doesn't worry me. It would worry me if he wasn't getting chances, which is what you ask for from a centre-forward.

Even if he doesn't have chances, he creates them for his team-mates. Opponents are frightened of him.

Football is like that and strikers will have these streaks. The important thing is to have chances."
While Valverde may have given his #1 striker a confidence vote, it isn't just Suarez's Champions League form worrying fans in Catalonia.
With Barcelona now drawing four of their last five matches across all competitions, the Uruguay international has not scored in five Champions League matches this season and has only scored once in his last 17 appearances in the competition.
The 32-year-old has also netted only one goal in his last eight games in all competitions for Barca.
Next up for the five-time Champions League winners, Valverde and a struggling Suarez will welcome fourth place Sevilla to the Nou Camp on Saturday.
Relevant news