Frank Lampard Mocks Leeds United with "Stop Crying Frank Lampard" Song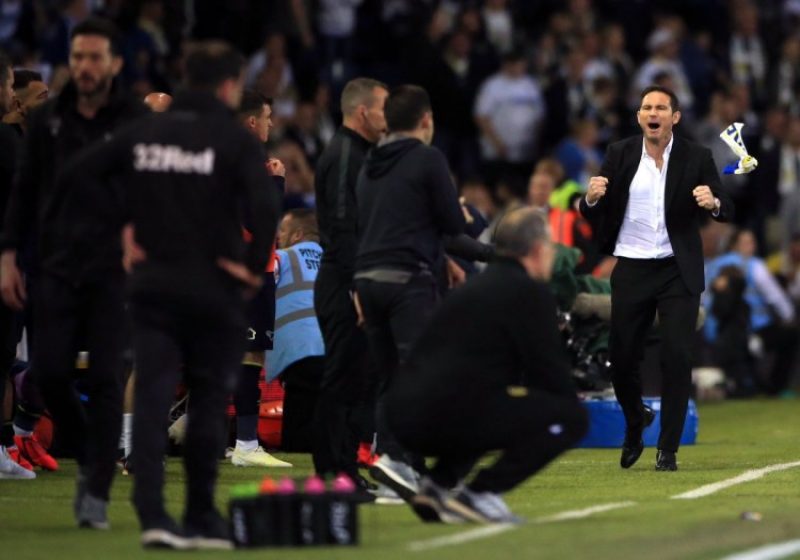 Derby County pulled off the latest in great footballing comebacks last night when they beat Leeds United 4-2 at Elland Road, to make it to the 2019 Championship play-off finals, and Frank Lampard didn't hold back with his celebrations.
Leeds looked set for a Wembley showpiece with Aston Villa after Stuart Dallas scored half-way through the first half, but Leeds fell apart (again) and conceded goals from Marriott and Mason Mount either side of the half-time whistle.
That left the tie level on aggregate and amidst the carnage of an end to end game, Derby got a penalty just before the hour mark, which on loan Liverpool player Harry Wilson slotted into the bottom corner.
There was still time for plenty more drama though and Leeds got the tie level again with a goal from Stuart Dallas before the killer blow from Derby. Patrick Bamford, who was awful all night, lost possession to Richard Keogh on the half-way line. He carried on his run and played a perfectly weighted pass to Jack Marriott who dinked the ball over the onrushing goalkeeper to send the Derby fans and staff into delirium.
Derby managed to see out the rest of the match and there were wild celebrations at full-time, with the Derby players spending 20 minutes on the pitch in-front of their travelling fans.
Leeds vs Derby – a new rivalry?
Much of the build-up before the tie had been around 'spygate' earlier this season after Leeds manager Marcelo Bielsa admitted sending a member of staff to spy on Derby training sessions. Lampard blasted their tactics as 'unethical' and Leeds were fined £200,000 for the incident.
During the first leg at Derby, the Leeds fans could be heard singing "We'll beat you at home, we'll beat you away, stop crying Frank Lampard"
? Leeds fans came up with a special song for Derby boss Frank Lampard when they met in the play-offs on the weekend… pic.twitter.com/71VIT4Jai5

— COPA90 (@COPA90) May 14, 2019
Lampard was in no way reserved in his celebrations on the full-time whistle, running straight onto the pitch with all his staff and there is quite clearly an edge to this new rivalry.
Frank Lampard leads Derby players in 'Stop Crying Frank Lampard' song
Stop Crying Frank Lampard.

— Derby County (@dcfcofficial) May 15, 2019
As well as the chant that has emerged from the Derby dressing room, Derby players were also seen celebrating in-front of their home fans making spying gestures, some of them have been seen on Twitter this morning from players including Mason Mount and Harry Wilson.
I spy with my little eye, something beginning with W ??

— Mason Mount (@masonmount_10) May 15, 2019
?️‍♂️?️‍♂️?️‍♂️ pic.twitter.com/EkELXkbyrV

— Soccer AM (@SoccerAM) May 15, 2019
Get in?? what a win!!??? I spy with my little eye something beginning with W? @dcfcofficial pic.twitter.com/cuXV1pkOCo

— harry wilson (@harrywilson_) May 15, 2019
I spy with my little ? something beginning with W ?

— Martyn Waghorn (@Mwaghorn_9) May 15, 2019
I spy with my little eye.. something beginning with W..?

— Fikayo Tomori (@fikayotomori_) May 15, 2019
Relevant news