Zinedine Zidane on the verge of making a Real Madrid return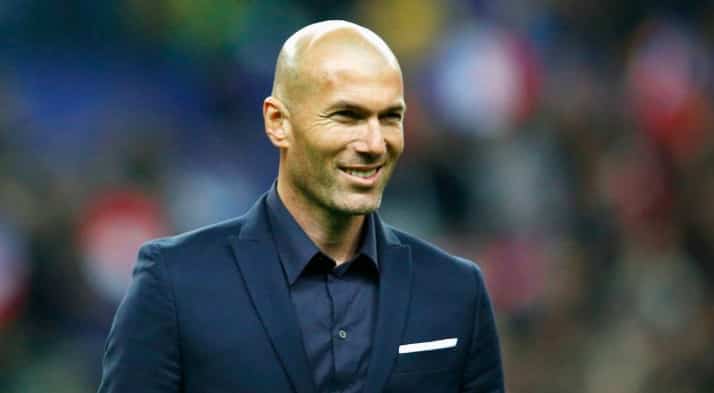 Although much of the speculation may have been surrounding a potential Real Madrid return for Jose Mourinho, it appears that Los Blancos are set to announce another of their former bosses.
Remarkably, it has been reported by several outlets that club icon Zinedine Zidane will make a shocking return to the Spanish capital.
The 46-year-old will replace current boss Santiago Solari, who has endured a troublesome five-months in charge of Madrid.
Speaking on Monday, Sky Sports' La Liga expert Guillem Balague confirmed that the Frenchman is on route back to the Bernabeu and is expected to take charge of Tuesday's training session.
| ? |@GuillemBalague reckons the King is returning to Real Madrid…

Zinedine Zidane is Bernabeu-bound and set to be given a blank cheque book ?

Who'll be top of the shopping list? ? pic.twitter.com/qK8GTA4pD0

— Eleven Sports (@ElevenSports_UK) March 11, 2019
Zidane on his way back to Real Madrid
While it was suggested last week that Zidane had declined the offer to take over immediately at Madrid, it is not very surprising to see that Real have been desperately looking for a replacement for Solari.
Amidst a string of poor performances and off-field battles, the Argentine has been on borrowed time ever since Los Blancos' 4-1 loss at home to Ajax and Champions League last-16 elimination last Tuesday.
A shell of the former club that dominated Europe's major tournaments, fans around the Bernabeu will be ecstatic to see Zidane make a much-needed return to the Spanish capital.
Despite rather surprisingly leaving last May, the former World Cup-winner led Real to three consecutive European titles during his two-and-a-half year tenure.
Zidane also left Madrid with one of the best La Liga win ratios in the club's recent history. The Frenchman saw his side hold a very impressive win percentage of 70.9%.
He was already the only coach to have claimed back-to-back Champions League titles, but despite his European success, Zidane came under pressure for winning only one La Liga title during his time in charge.
According to Spanish media outlet Marca, Solari has already said goodbye to the first team, with Zidane expected to take his first training session on Tuesday before managing his first game back against Celta Vigo at the Bernabeu on Saturday.
With Real Madrid still sat 12 points adrift of Barcelona and five points behind bitter-rivals Atletico, long-time club president Florentino Perez believes that Zidane is the perfect man to lead them in the post-Cristiano Ronaldo era.
Relevant news