How to use Ladbrokes' Sign-up Offer of three free £10 Champions League Bets
This week Ladbrokes are giving their new customers a brilliant bet £10 get £30 in free bets sign-up offer, and we're using this on the Champions League quarter finals this week.
Tonight there is Liverpool vs Porto and Tottenham vs Manchester City before two quarter finals tomorrow and the guide below will show you how to get the three £10 free bets, and our betting tips for what to use them on.
How to get the 3 free Champions League bets
To unlock the 3 £10 free bets, you need to place a £10 bet with your own money first, and then once that bet is settled, you get the three £10 free bets dropped into your new account.
For example, bet £10 on Tottenham vs Manchester City tonight, and win or lose you will get three free £10 bets added to your new account – we're going to spend our three free bets on tomorrow's Champions League quarter final games with the hope of not only winning our original £10 back, but making a nice profit too.
How we're using the £10 free bets:
Stage one – open a Ladbrokes account via this link and bet £10 on Raheem Sterling to score vs Tottenham @ 13/8 (£10 returns £26.25)
Once the Tottenham v Man City match finishes, you'll have THREE free £10 bets in your account, plus £26.25 if Raheem Sterling scores.
Stage two – spend your three free £10 bets bets however you like.
Here is how we will spend ours:
£10 on Cristiano Ronaldo to score first in Ajax vs Juventus @ 16/5 (£10 returns £32)
£10 on Lionel Messi to score first in Man Utd vs Barcelona @ 5/2 (£10 returns £25)
£10 on both teams to score in both tomorrow's quarter finals @ 9/5 (£10 returns £18)
Remember, all this comes from just £10 of your own money and if you wanted to try and win bigger amounts then you could pick correct score bets to spend the free bets on, or even a both teams to score and win double for the Wednesday night matches.
Spend the free bets on whatever you like, but remember you need to bet £10 tonight to unlock them.
CLAIM NOW – £30 IN FREE BETS WHEN YOU REGISTER AT LADBROKES.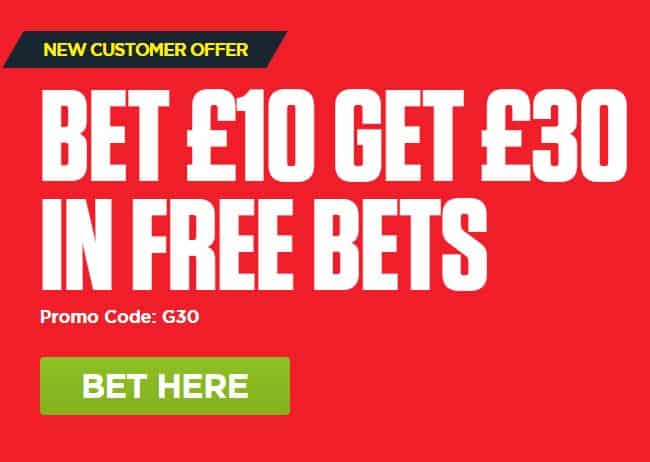 Relevant news