FPL 2020/21 Tips – How to Navigate the Blank Gameweek 1 for Man City & Man United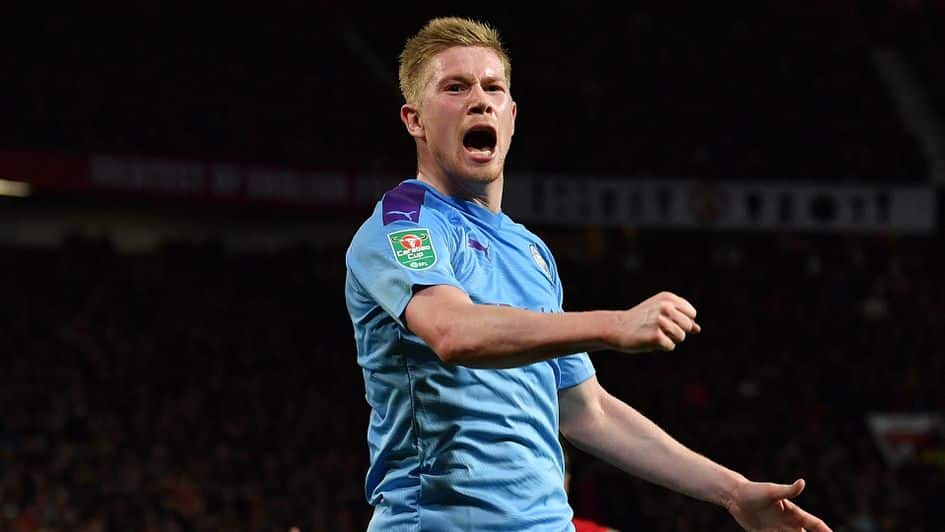 The 2020/21 Fantasy Premier League season kicks off with a blank gameweek. As a result of the fixture congestion from last season, Manchester City and Manchester United's European runs have meant that their Gameweek 1 fixtures with Aston Villa and Burnley have been postponed.
This creates somewhat of a dilemma for Fantasy Football managers. Premium options like Kevin De Bruyne, Raheem Sterling, Bruno Fernandes, Anthony Martial, and Marcus Rashford will earn no points in Gameweek 1. Meanwhile, more affordable options like Mason Greenwood, Phil Foden, Nick Pope, and Jack Grealish are also dead weight.
The following article will take you through three potential strategies to navigate Blank Gameweek 1, assuming you're interested in at least one option from the abovementioned sides.
Strategy 1 –  Free Transfers
Perhaps the most obvious strategy to bypass the blanks is to use free transfers in the following weeks. Assuming you have a good idea of who you would like, a free transfer can easily be planned to get in that player after Gameweek 1.
For example, if Kevin De Bruyne (11.5m) is top of your wishlist, picking a player of the same price or higher will allow for an easy switch. Pierre-Emerick Aubameyang (12.0m), Mo Salah (12.0m), and Sadio Mané (12.0m) are all suitable options with appealing Gameweek 1 fixtures that could make way later on.
Alternatively, you may want to opt for a cheaper option and leave money in the bank to fund a more expensive swap. In that case, the likes of Heung-Min Son (9.0m) and Hakim Ziyech (8.0m) come into the picture.
Planning transfers can cause more issues than it solves though. Gameweek 1, in particular, tends to throw up a few surprises and there may be one or two bandwaggons you want to jump on. By having transfers for blank gameweek players already planned, you'll be effectively tying your hands for any other moves.
Another potential issue with free transfers as a method to navigate the blanks is their scarcity. After Gameweek 1 you will have only accumulated one free transfer. If you wanted to load up on Manchester United assets before their Gameweek 2's fixture against Crystal Palace, you would need to take a four-point hit to do so.
Strategy 2 – Benching
One way to forgo a points hit and have multiple blank gameweek players in your Gameweek 2 side is to start with them on your bench. You have unlimited transfers prior to Gameweek 1 which makes it easier to select a viable starting XI with blank gameweek assets on your bench.
Benching expensive players is never ideal but it could give you the edge in weeks to come. Select your cheaper squad players carefully, taking particular notice of their Gameweek 1 fixture and you will be able to make the most of your £100m budget.
A few examples of inexpensive players with potentially solid Gameweek 1 fixtures are Kyle Walker-Peters (4.5m), Jamaal Lascelles (4.5m), Tomas Soucek (5.0m), and Rúben Vinagre (4.5m), who also features in our best budget FPL players for 2020/21 season article. These players wouldn't need to be regular fixtures in your team but could provide value in Gameweek 1 whilst saving money for benched blank gameweek players.
The main issue with this strategy is the lack of premium playing options if you want to go for multiple expensive blank gameweek players. Where some managers may be fielding Aubameyang and Salah, you may be starting three 4.5 defenders in order to fit De Bruyne and Fernandes on your bench.
Of course, a combination of benching and free hits can be used and would allow multiple blank Gameweek 1 players in Gameweek 2 without taking a four-point hit. This will require planning but it would negate the need to potentially waste a chip.
Strategy 3 – Wildcard
Using chips early on is rarely recommended but this season could be an exception. There are two chips that could potentially offer a viable avenue to navigate Blank Gameweek 1 –the wildcard and the free hit.
Wildcarding is the simplest and most effective way to field a strong Gameweek 1 side with all the players geared towards favorable early fixtures. By planning to wildcard you can pick players with the best initial fixtures before deciding on a week to pull the trigger.
Looking at Manchester City and Manchester United's fixtures does raise some questions over this strategy, however. City have a mixed set of fixtures which are arguably better between Gameweeks 2 and 6 than they are between Gameweeks 7 and 10. Meanwhile, Manchester United have a favourable run of fixtures immediately after Gameweek 1.
With that in mind (and the fact the players in these sides may be 'fixture-proof'), a wildcard is probably only worth using should your team come into some early trouble with injuries and suspensions.
Read More FPL articles:
The best way to win cash playing Fantasy Football.
Which budget players are the best in FPL 20/21?
How to get a €30 sign-up bonus from FanTeam.
Win CASH Playing Fantasy Football this season
Join FanTeam and submit your Fantasy Football team into their season long league at a cost of €25. The top 5,659 players in that league at the end of the season get paid, with the least you can win being €30. The winner of the league gets €200,000!
If you join FanTeam through a link on this page and deposit the €25 to enter the tournament, you also get a €30 free bet to spend on their sportsbook for this season!
Relevant news