BetBull have made a big impact on the betting scene in the last couple of, especially for those punters who love to bet on football accumulators. We have had an account with them for a while now so this is a good time to put together a BetBull review and talk about the new £150 in free bets BetBull sign-up offer.
This bookies are an app only, social betting platform where you can follow other people's bets, or people can follow your bets. You have the option to follow other tipsters direct on the app and the add to betslip feature makes this really easy.
The BetBull free bet has recently changed to an offer they're calling "up to £150 in free bets".
How to use the BetBull Free Bet:
1 Tap this link straight to the BetBull homepage
2 Fill in your details and verify the account
3 Start claiming your £150 in free bets
Claiming the BetBull sign-up offer couldn't be easier, and once you have set up your account, they will automatically trigger onto the account. The more bets you place over the first 7 days of opening the account will mean the more free bets you get as part of your BetBull welcome offer.
The rewards will then be paid to you in the form of four free bets – for example if you collect the whole £150 sign-up offer, you will get four free bets after 7 days, each one worth £37.50.
What is the BetBull Promo Code?
We have made your life nice and easy when you join BetBull and the code to get the free bets is already included in our link. So instead of having to remember to use the BetBull promo code when you join, just click this link to download the app and the £150 in free bets will already be activated on your account.
Is the BetBull Welcome Offer Bonus Any Good?
Ths new BetBull welcome offer is different to most other new bookies sign-up bonuses because you can accumulate the free bets over the first 7 days of betting on the BetBull app. For example, if you only deposit and bet £20 in the first 7 days of using BetBull, you would still qualify for a welcome bonus of £20. However, if you decide you want the full bonus, you would need to place £150 of bets in the first week, giving you £150 in free bets.
This is a very flexible way of giving out new customer free bets and it gives you the freedom to collect as little or as much in BetBull sign-up offer as you want.
BetBull Review 2020
If you like to bet on football accumulators then BetBull is well worth trying out. Not only will you get their easy to use layout and navigation, but you will also have the chance to see which other punters on the app are in-form and banging in winners.
There are still over 100 markets to use on big matches but it was the accumulators that caught our eye when using the BetBull app. These include win-draw-win, both teams to score, over/under 2.5 goals and both teams to score and win accas. Different punters prefer different bets and by following your favourite ones, you get a good idea of the kind of things people are betting on today.
Another great feature on the BetBull app is the odds boost wheel. Each time you place a bet you will get the chance to spin the wheel – this will either give you boosted odds of between 5% and 30%, and an acca insurance of either one game, two games, three games or all the games on your bet. Little things like this make the Betbull review stand out and that's one of our main reasons for recommending the app.
Cash-out – you can also cashout your bets before they end, this is a feature of a lot of betting apps these days, but the Betbull one is as good as any. When we tried it out they cashout feature seemed to come back quickly after being suspended for a corner, free kick or penalty and it stayed on until quite late in matches. In some of our other bookmaker reviews, we've found that cashout becomes unavailable way before the end of the matches and that is a bad feature.
This is what the betslip looks like when you place a bet on the BetBull app.
BetBull App Review
This is pretty much the same as above as Betbull is only available on their app. You can turn on push notifications to ensure you never miss a goal and that gives you the chance to head straight over to cashout if you want to get out of the bet.
Because it is all contained in the app, the Betbull login is always available and you can stay logged in if you want. This is a great feature if you quickly want to check your bets in-play.
What are the Betbull Diamonds for?
When you bet with BetBull, you collect diamonds – these are a kind of loyalty program and you can use them to spin the wheel and get boosted odds for your bet, insurance for your accumulator or even a full accumulator insurance, which means if your acca loses, you'll get the money back as a free bet to spend on your next accumulator.
Each day you log into your BetBull account you will get an extra diamond added to your account, even if you don't place a bet.
As you will see below, you can use you BetBull diamonds to spin the wheel and get an added promotion to your accumulator.
How to sign-up to BetBull and use the free bet
Even if you don't want to place any bets with BetBull, we'd recommend downloading the app just so you can have a look around the app and see the best features of BetBull.
It doesn't cost anything to download and you don't have to deposit before following other tipsters.
You can then start using the account for your football betting, and building up your free bets. These will be released to you after 7 days, up to £150.
There is also a refer a friend bonus which will see you get a £20 free bet each time somebody new signs up and this is well worth taking advantage of if you're in a group of mates and betting on your weekend accumulators.
Where are the BetBull free bets?
You've joined BetBull but you don't see your free bets in your account? That might be because you don't get them for the first 7 days of using the app. You accumulate your free bets over the first week and then after 7 days, your BetBull welcome bonus is paid to you, which you can then start spend on betting.
The first deposit and bet must be £20 or more and from there, you can bet as little as you want on football or horse racing and start accumulating your bonus.
Once you have activated the free bets and they're in your account, you will see the option to use them in your betslip, rather than using your own money balance to place the bets.
How to get the Bet Bull Sign up Offer:
1 Download the app for free using this link
2 Start betting
3 Collect up to £150 in free bets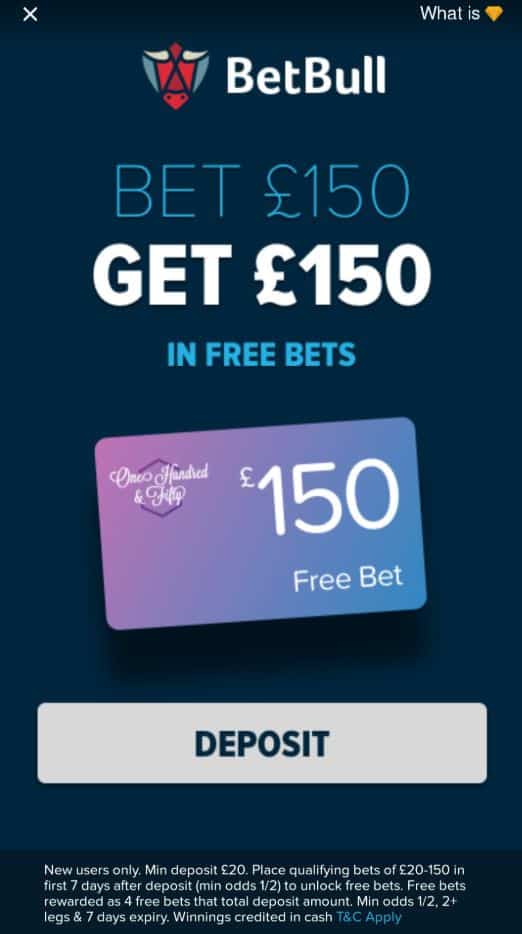 Read More: What is the William Hill bonus code for 2020?