What are Lucky 15 Tips?
One of the most popular ways to bet on horse racing is a lucky 15 – this is a bet where you select four horses and the bet consists of 15 bets in total.
We will update our lucky 15 tips every day and to get a return on this type of bet we only need one horse to win. The more horses that win, the more of the 15 bets will be winners, and therefore the bigger the payout. Read on to see how to bet on a lucky 15, what it means, and how the payout is calculated.
When you see a lucky 15 tip, you will always see four horses selected. This is because a lucky 15 bet needs four picks. You can read exactly how a lucky 15 works here and that will explain how the bet is calculated and which perms are involved.
Our lucky 15 tips will either be for a win or an each-way bet and the odds will reflect this. We wouldn't normally advise a win bet if the horses are all at double-figure odds and similarly, we wouldn't bet each-way if they were all 3/1 or less.
The good thing about a lucky 15 is that even if only one of the four horses wins, you are guaranteed a return of some kind.
The more winners you get, the bigger and better your return would be and we will always be aiming for four winners from four selections on our daily lucky 15 tips.
On this page we will not always pick the tips ourselves. There are so many good horse racing pundits and tipsters out there that sometimes we will use their selections and build a lucky 15 using them. This means you could be betting on four of the Racing Post NAPs for today in a lucky 15 across four different meetings.
It could be that we take a combination of horse racing tips for today from tipsters such as Templegate, Pricewise and Kevin Blake, and advise four of those picks in our lucky 15 bet for today's meetings. This gives us the chance to follow the racing and hopefully get a winning bet from a relatively small stake.
How much does a lucky 15 cost?
The cost of a lucky 15 depends on your stake.
With this kind of bet you have to remember that whatever your stake is, it will be multiplied by 15 as there are 15 different bets in your lucky 15. If you want to start really small you could just place a 10p lucky 15 which will cost you £1.50 in total (10p x 15).
Once you get the hang of working out the costs of a lucky 15 it is simple, but below are some examples:
20p lucky 15 costs £3
50p lucky 15 costs £7.50
£1 lucky 15 costs £15
£2 lucky 15 costs £30
When you're betting on an each-way lucky 15, things get a bit more complicated because you now have a total of 30 bets (you have to double the 15 for the each-way part).
How much an each-way lucky 15 costs is as follows:
10p each-way lucky 15 costs £3
20p each-way lucky 15 costs £6
50p each-way lucky 15 costs £15
£1 each-way lucky 15 costs £30
What is the best lucky 15 bonus?
At the time of writing the best lucky 15 bonus offer, we can find is the long-standing Betfred treble odds for one winner offer. This has been around for a long time and it makes Betfred our go-to bookies when betting on our lucky 15 tips.
This betting offer means if you place a lucky 15 bet and only one of the four horses win, you get paid out at treble the odds for that winner. For example, one horse wins at odds of 6/1 on your £1 lucky 15. Instead of getting a £7 return (£1 at 6/1) you, in fact, get the 6/1 trebled to 18/1, giving you a £19 return and a small profit from your £15 stake.
If you don't have a Betfred account you can also collect their bet £10 get £30 welcome bonus when you sign-up through thatsagoal.com and that gives you the account to use the best bookie for lucky 15 bets.
What does a Lucky 15 betting slip look like?
If you bet on a lucky 15 in a sop, the slip will say Lucky 15 at the top. Sometimes though, it will say Lucky 15/31/63. You can still use this slip you just need to fill out the first four rows with your four selected horses. A Lucky 31 and Lucky 63 are similar to Lucky 15 bets, there are just more selections and so more bets.
A Lucky 15 betting slip in a bookmakers is likely to look something like this, which is from a William Hill shop: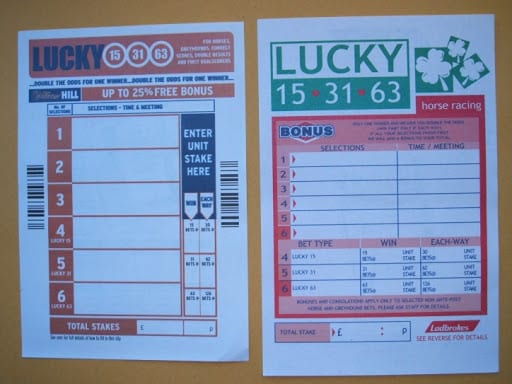 If you bet on a lucky 15 tip online, you will need to select Lucky 15 from the 'multiples' section of the betslip. Once you have placed your bet you will see a slip that looks something like below. You can cashout a lucky 15 bet on most major bookmakers now if you choose to do so. After each horse has ran you will get an updated cashout.
Lucky 15 Calculator
Some people will place a lucky 15 bet without knowing exactly what they're betting on, so what bets are in a lucky 15? 
1x 4-fold accumulator
4x trebles
6x doubles
4x singles
When you place a lucky 15 you are getting 15 bets across your four selections, so you can work out the returns with a bit of decent maths.
The four singles are straightforward. The horses that won you have your stake on each one. e.g you get 4/1 and 3/1 winners on a £1 lucky 15 so your singles return £5 and £4.
Next we have to work out the doubles. Two horses won so you have a £1 double on the 4/1 and 3/1. That pays £20.
If three horses had of won you'd have to work out the winning doubles and one winning treble.
If all four horses win you work out the singles, doubles, treble and the 4-fold accumulator.
The other method is to use a bet calculator and with one of these you can work out returns on a wide variety of bets including Lucky 15s and Super Yankees (what is a Super Yankee?)
Best Odds Guaranteed on Lucky 15 Tips
Most UK bookmakers now offer best odds guaranteed online and given that Betfred are already leading the way in our preferred bookie for a lucky 15 stakes, it is worth giving them another mention here.
Bet on our lucky 15 tips for tomorrow with Betfred and you'll get best odds guaranteed for the bet. This means if any of the horses you bet on go off a bigger SP price, you will get paid at the bigger odds.
Best odds guaranteed (or BOG) is a must-have betting offer when betting on horse racing and it can make a big difference to payouts for multiples like a lucky 15 bet.
Lucky 15 Questions Answered
How many bets are there in a lucky 15?

1 accumulator
4 trebles
6 doubles
4 singles

How much does a lucky 15 cost?

A lucky 15 will cost 15x your initial stake - for example:

20p lucky 15 costs £3
50p lucky 15 costs £7.50
£1 lucky 15 costs £15
£2 lucky 15 costs £30

For each-way lucky 15 bets, you need to double that stake. 

How do lucky 15 bets work?

If one or more of your four selections win, then you get a return. The more horses that win, the more you are set to win from the lucky 15. A lucky 15 is made up of 15 bets including an accumulator for all 4 to win, 4 single bets, 6 double bets and 4 trebles.

Can you do a lucky 15 each-way?

Yes you can. An each-way lucky 15 bet works the same as any other type of each-way bet in that you need horses to place to get a return, and you still have the 15 bets just they are each-way.