What Races Do You Offer Lucky 15 Tips On?
We're horse racing lovers all year round here at That's A Goal and we're not just about the Grand National or Cheltenham like many other sites, we deliver our tips each and every day, at racecourses from Ayr to York and everything in between.
So, if there's a big day at Thirsk, or a super Saturday at Sedgefield, we've got you covered.
What are Lucky 15 Tips?
For the more novice punters amongst us, actually understanding what a Lucky 15 bet is, is perhaps the first port of call. It is one of the most popular ways to bet on horse racing, and is a bet where you select four horses, with the bet then consisting of 15 bets in total. These bets are made up of a variety of different bets, from singles to four-folds, with the total 15 bets essentially being:
Four singles
Six doubles
Four trebles
One four-fold accumulator
You can find out more about how a Lucky 15 works by reading our ultimate guide to Lucky 15 betting below…
How to bet on a lucky 15 for horse racing.
Are Lucky 15 Bets To Win Or Each Way Bets?
You can place Lucky 15 bets on both the To Win or Each Way markets, and the odds and stake will reflect this, just as they would in a singles bet on the markets. When it comes to our own Lucky 15 betting tips, we tend to offer both Each Way and To Win betting on our Lucky 15 bets. Ultimately, wherever we think there is the best value and the best chance of winning.
How Do We Choose Our Lucky 15 Betting Tips?
Our expert team of horse racing tipsters work hard to bring you their Lucky 15 predictions each and every day and collate a range of sources to ensure they're offering the best options to win in their eyes.
A variety of factors are considered, including:
Horse Form
Jockey Form
Conditions
Distance
Historic Form in Race
Other pundit predictions
Owner/Trainer interviews
And a wealth of other information to ensure our predictions are the most well thought out they can be.
How Much Does a Lucky 15 Cost?
Like with many other forms of betting, including Each Way, or a Yankee bet, it isn't quite as simple as putting £1 stake down and you pay £1 to bet, as a Lucky 15 is made up of 15 bets.
Therefore, how much a Lucky 15 costs depends entirely on how much you're staking. Then it's simply a case of multiplying that by 15.
So, when you're betting on a To Win Lucky 15 bet, the costings would be as follows:
20p lucky 15 costs £3
50p lucky 15 costs £7.50
£1 lucky 15 costs £15
£2 lucky 15 costs £30
It starts to get a little more complex when it comes to Each Way Lucky 15s, as you're then placing a total of 30 bets, as there is the To Win and To Place gets that make up Each Way. Therefore, you're multiplying your stake by 30.
10p each-way lucky 15 costs £3
20p each-way lucky 15 costs £6
50p each-way lucky 15 costs £15
£1 each-way lucky 15 costs £30
What is the best lucky 15 bonus?
At the time of writing the best lucky 15 bonus offer, we can find is the long-standing Betfred treble odds for one winner offer. This has been around for a long time and it makes Betfred our go-to bookies when betting on our lucky 15 tips.
This betting offer means if you place a lucky 15 bet and only one of the four horses win, you get paid out at treble the odds for that winner. For example, one horse wins at odds of 6/1 on your £1 lucky 15. Instead of getting a £7 return (£1 at 6/1) you, in fact, get the 6/1 trebled to 18/1, giving you a £19 return and a small profit from your £15 stake.
If you don't have a Betfred account you can also collect their bet £10 get £30 welcome bonus when you sign-up through thatsagoal.com and that gives you the account to use the best bookie for lucky 15 bets.
What does a Lucky 15 betting slip look like?
When it comes to placing bets on our predictions, you'll need to add them to your betting slip, whether online or in a betting shop.
This is easy enough to do, and in many betting shops you'll find Lucky 15 betting slips, dedicated to the type of bet. In this instance, you just need to fill the first four rows out with the horses you wish to bet on. You can see a good example of a Lucky 15 betting slip from William Hill, below: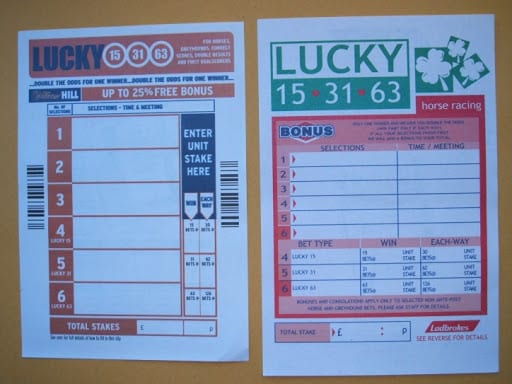 If you bet on a lucky 15 tip online, you will need to select Lucky 15 from the 'multiples' section of the betslip. Once you have placed your bet you will see a slip that looks something like below. You can cash out a Lucky 15 bet with most major bookmakers now if you choose to do so. After each horse has run you will get an updated cashout.
What Are The Best Lucky 15 Bonuses?
Bookmakers are always offering fantastic bonuses, ideal for betting on our Lucky 15 predictions, from Betfred to BetVictor and we're always on hand to collate the very finest.
Our offers page is always jam-packed with betting offers from the likes of Betfred Treble Odds, to a wealth of welcome bonuses to make the most of upon sign-up.
You'll find our favourites to start enjoying our Lucky 15 betting tips below…
Best Odds Guaranteed on Lucky 15 Tips
With all our betting tips, whether it be Lucky 15, our NAP of the Day, or any other tip we put forward, we'll always scour the market for the best odds on our predictions, meaning you'll always get best odds guaranteed.
You really won't find a better place to enjoy your horse racing Lucky 15 bets anywhere on the internet.