Eden Hazard makes a decision over his Chelsea future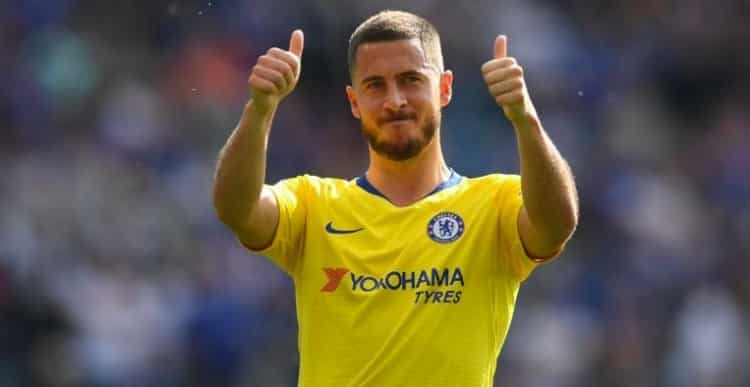 After having to settle for a place among the substitutes for Chelsea's final day trip to Leicester on Sunday, it appears that Eden Hazard could have made his last Premier League appearance for the former champions.
Speaking after their 0-0 draw at the King Power over the weekend, the Blues' attacking talisman revealed that he has finally made a decision surrounding his Stamford Bridge future.
Announcing that he informed the Chelsea hierarchy of his decision a fortnight ago, the 28-year-old still remains constantly linked with a move to La Liga giants Real Madrid and has made no secret of his desire to work under childhood idol Zinedine Zidane in the Spanish capital.
Eden Hazard: "I have made my decision. I wanted it (to be cleared up earlier), but that hasn't happened. I'm still waiting like you are waiting. I don't think (finishing in top 4) makes any difference. I've made my decision, that's it. I've told the club a few weeks ago." #cfc pic.twitter.com/w5zQUfjHeu

— Kristof Terreur (@HLNinEngeland) May 12, 2019
"I have made my decision"
Once again cementing his spot as the talisman at Stamford Bridge, the Belgian winger has recorded 16 goals and 15 assists this year, his best return in the Premier League.
Playing his seventh top-flight season following his £32million move from Lille back in 2012, Hazard will be entering the final year of his deal in West London this summer.
Despite hinting that he could be tempted to extend his stay with the club during their awards night earlier this week, Hazard's comments following Sunday's draw with Leicester have cast serious doubt over his Chelsea future.
Although Chelsea have managed to secure a Champions League return and a third-place finish, the 28-year-old insisted that will not alter his final decision.
'I'm still waiting. Yes, [I told the club] a couple of weeks ago.

'I have made my decision but it is not just about me. We have a final to play and then I will see. I wanted that [to have the situation sorted out] but that's not happened.

'I'm still waiting like you are waiting and like the fans are waiting.'
Hazard also went on to reveal that an official announcement surrounding his future will likely be made following Chelsea's Europa League final against Arsenal in Baku on May 29th.
After having to settle for a third-place La Liga finish behind both Barcelona and Madrid rivals Atletico, Los Blancos' President Florentino Pérez is heavily rumored to be looking for a shakeup at the Bernabeu this summer.
With Hazard branding any potential move to the European giants as a "dream" back in October, Chelsea are believed to have stuck a £100million price tag on their leading goalscorer.
While Hazard may have been greeted to a string of banners at the King Power on Sunday and the travelling Chelsea fans chanting his name, Blues boss Maurizio Sarri refused to rule out the possibility of Chelsea's Player of the Season leaving the club in the summer.
'I don't know. If Hazard is thinking the history here is finished then in his mind it is finished,'

'I can try to speak to him but it's not easy because of course I want Hazard, but I want Hazard with a very high level of motivation.

'You have to ask the club because I am not in control of the market and I am not in charge of the renewal of the contract so I am not able to answer.'
If Real Madrid are to finally land their longtime target this summer, the Spanish outfit are expected to have to break the bank in order to finally secure his services.
Despite appealing a two-year transfer ban handed down by Fifa last month, their appeal was overturned and the Blues will be banned from signing players until the end of January 2020.
While Chelsea might not be able to make any more permanent additions to their squad, Borussia Dortmund winger Christian Pulisic will be joining up with the Premier League side this summer as his £58million switch was completed before the ruling.
Read More: Everton fans troll Liverpool fans at Lime Street station.
Relevant news