World Cup 2018 Group A Betting Tips and Predictions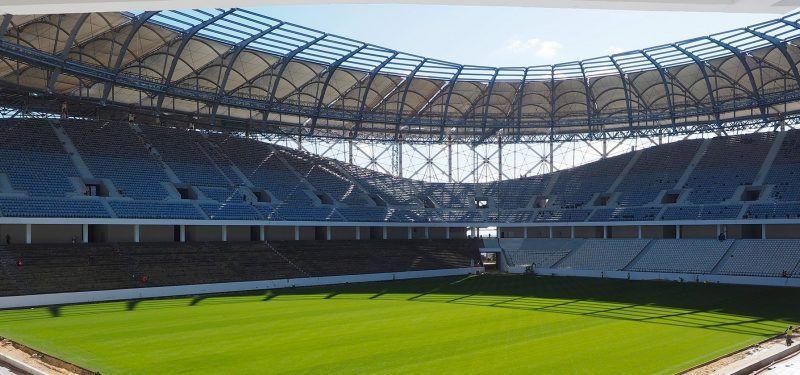 World Cup 2018 Group A Betting Tips and Predictions
25-06-2018
Saudi Arabia vs Egypt predictions and betting tips for the World Cup 2018 Group A fixture on Monday 25th June at 3pm. Can the Egyptians restore some much needed pride among Group A this summer, or will it be Saudi Arabia who ultimately end their World Cup 2018 campaign on a surprising high?  Fixture: Saudi […]
read more
World Cup 2018 Group A Betting Tips and Predictions
19-06-2018
Uruguay vs Saudi Arabia predictions and betting tips for their World Cup Group A fixture on Wednesday June 20th with a first goalscorer tip and correct score prediction included. After conceding five goals in their opening World Cup Group A match against hosts Russia amid a generally poor display, Saudi Arabia will need to improve […]
read more
World Cup 2018 Group A Betting Tips and Predictions
15-06-2018
Egypt vs Uruguay predictions and betting tips for the World Cup 2018 Group A fixture on Friday 15th June at 1pm. Will the Uruguayans turn up in full force this summer, or can those buoyant Egyptians triumphantly steal the 2018 World Cup spot-light for themselves?  Both teams will want to get a win to kick-off their World […]
read more
World Cup 2018 Group A Betting Tips and Predictions
14-06-2018
Egypt vs Uruguay prediction and an 9/1 bet using the new Paddy Power same game multi-bet. See our three predictions for the match to combine to make up a 9/1 Egypt v Uruguay bet. Paddy Power allow you to make your own request-a-bet style bet on matches and we have done exactly that in search […]
read more
World Cup Group A Preview and Predictions
The World Cup is almost upon us and it all gets started on June 14 with the hosts Russia taking on Saudi Arabia in the Group A opener. This will be the home of our World Cup 2018 Group A betting tips.
The group is one that could see any nation go through and is perhaps the most wide open within the tournament. The Russians will fancy their chances in this one but with Uruguay and Mohamed Salah's Egypt in the mix, it could be a very tough one indeed for them. With the tournament just a matter of months away, we take a look at the World Cup Group A tips and where you should be putting your money.
Russia World Cup Odds:
Russia Odds To Win Group A: 7/4
Odds to Qualify From Group A: 2/7
[global_advert id="37954″]
Bet on Russia at the 2018 World Cup with a £20 free bet from Ladbrokes.
The hosts Russia are one of the firm favourites to qualify for the knockout rounds in Group A and they'll be helped by their fans who will pose an incredibly intimidating atmosphere. The 12th man will be a necessity for the side. They finished bottom of the group at Euro 2016 and haven't improved hugely since. They'll rely on Artem Dzyuba and Aleksandr Kokorin heavily for goals with the latter among the favourites to be top scorer in Group A. They'll open up the tournament against Saudi Arabia where they are 3/10 to win that fixture. They should comfortably see that one through and that's where it gets difficult. Egypt are next up who could be a real threat to Russia's chance of qualification. You can see our Russia vs Saudi Arabia predictions ahead of the World Cup opening match.
Mo Salah has been in phenomenal form for Liverpool and could be a real star at the tournament for Egypt. The Egyptians are regularly vastly underestimated and despite Russia being favourites, they will have to be at their very best. The hosts are among the favourites to qualify alongside Uruguay, who they face in their final game. They'll be hoping the result will only affect first and second with Uruguay/Russia the most favoured outcome when it comes to a straight forecast. Naturally, the South American nation are at 7/5 to win that one and we'll be expecting plenty of goals from both Luis Suarez and Edinson Cavani throughout the tournament.
Uruguay World Cup Odds
Uruguay Odds to Win Group A: 4/5
Odds to Qualify From Group A: 2/9
[global_advert id="37947″]
Bet on Uruguay at the 2018 World Cup with a £60 free bet from Betfred.
Uruguay are World Cup stalwarts and after getting knocked out in the Round of 16 in Brazil they'll be desperate to give a better account of themselves and reach the latter stages. The World Ranked 21st side have some real stars in their side and time and again that can prove to be the difference. They're 33/1 to win the World Cup but if Luis Suarez and Edinson Cavani are on top form, they'll be a real threat going forward – could they be one of our World Cup 2018 winner predictions?
Luis Suarez' odds to be World Cup top goalscorer are 25/1 which is well worth a punt in a group which will allow plenty of goals. At the back they'll also have the experienced heads of Diego Godín and Maxi Pereira in what really is a talented squad.
Egypt will be their first opponents in what should be a comfortable three points. They're at 8/11 to breeze through that one, while we're fancying a high scorer against Saudi Arabia. A 4-0 win at 11/1 looks a steal with that one but we'd fancy a much closer affair in the closing fixture of World Cup Group A against Russia. Uruguay will be fancied to get all nine points in this group, setting up a potential Round of 16 tie with Spain or Portugal, both much trickier ties.
Egypt World Cup Odds
Egypt Odds to Win Group A: 6/1
Odds to Qualify From Group A: 2/1
[global_advert id="37955″]
Bet on Egypt at the 2018 World Cup with a £20 free bet from Paddy Power.
The Egyptians will go into the World Cup as potential dark horses and we wouldn't be surprised if they pip Russia to a qualifying spot alongside Uruguay. They're ranked higher than the hosts and at 2/1 to qualify provide the best value for punters. Mohamed Salah will of course be integral to their plans, but they also have some strength elsewhere. West Brom's Ahmed Hegazi has been in good form recently and will help form a solid base, while as a unit the Pharaohs continue to be the dominant force in African football. They'll need some big wins though if they're going to make it into the knockout stages. What will be a positive is that they get their toughest game out of the way first and that is key for our Group A predictions this summer.
A first game of the group can always throw up a few surprises, so a positive result will really get their campaign started. They're 4/1 to grab the victory against Uruguay in the latest World Cup Group A betting odds, but evem if they lose that match there are six points still up for grabs.
Russia come next in what will be the key game of World Cup 2018 Group A. Russia take the edge according to the bookies, but Egypt really do have the firepower in Salah as long as he is fit after that Champions League final injury. With all attacks likely to go through him he'll be a great punt for top scorer of the group and should they qualify for the knockout stages a potentially nice shout for World Cup top scorer. Six months ago he was 100/1 in the top goalscorer odds but that has been halved to 50/1 now, with many bookies only 33/1. Should the Egyptians pick up points in their first two fixtures they'll be put into a fantastic position with their final game against Saudi Arabia.
The Middle Eastern country will be seen as a banker three points for every nation in Group A, and the way the fixtures fall could well play a big part in this group's qualification.
Saudi Arabia World Cup Odds
Saudi Arabia Odds to Win Group A: 25/1
Odds to Qualify From Group A: 7/2
[global_advert id="37950″]
Bet on Saudi Arabia at the 2018 World Cup with a £40 free bet from Bet Victor.
Despite being marked as the group's whipping boys; Saudi Arabia aren't actually the lowest ranked side in World Cup 2018 Group A. That honour falls to Russia. Despite this it'll be a monumental task for the Saudi side to make it through the group. The nation has only a couple of members of the squad which play outside the country and will struggle to handle the likes of Suarez, Cavani and Salah as the tournament progresses. They do have the honour of opening the tournament however and it would be some upset if they beat the Russians on home soil – but are betting tips and predictions for the first World Cup match are predicting a good start for Saudi Arabia.
They're at 10/1 in that tie and it's a hugely risky bet. If they're to get anything a draw at 18/5 would be the safest bet, but that's the most we can see them getting from any tie across the group.
The threat of Salah will likely be too much against Egypt in their final game, where they're at 4/1 to win and against Uruguay we can expect a real thumping by the South American side. They'd only be a punt for the brave souls and they're far and away the favourites to finish bottom of the group.
World Cup 2018 Group A Fixtures
June 14, 2018
Russia v Saudi Arabia, 16:00, ITV
June 15, 2018
Egypt v Uruguay, 13:00, BBC
June 19, 2018
Russia v Egypt, 19:00, BBC
June 20, 2018
Uruguay v Saudi Arabia, 16:00, BBC
June 25, 2018
Saudi Arabia v Egypt, 15:00, ITV
Uruguay v Russia, 15:00, ITV
World Cup Tips for Group A
The odds for Uruguay to win Group A are 10/11 and that could be one of the best betting tips for the whole World Cup this summer. The quality of opposition is really low in Group A and it's hard to see anything but the South American's cruising through to the last 16. Elsewhere, the odds for Russia seem skewed by the fact that they are the hosts and it'd be no surprise if Egypt pipped them to second spot – as long as Mo Salah is fit. Saudi Arabia don't look capable of challenging for a last 16 spot but our tipster is betting on them to push Russia all the way in the opening World Cup fixture and would not put you off betting on a Saudi Arabia win at odds of 10/1. For a slightly more conservative betting tip, consider betting on Saudi Arabia to win or draw at odds of 11/5. We're backing Egypt to beat Russia into second spot and Saudi Arabia to finish bottom of the group. Our predictions for how World Cup Group A will finish are as follows:
1 Uruguay – 9 points
2 Egypt – 4 points
3 Russia – 1 point
4 Saudi Arabia – 1 point
Group A Winner Prediction
URUGUAY – get the best odds of 10/11 at William Hill.
[global_advert id="37963″]
Group A Runner Up Prediction
EGYPT – get the best odds of 11/4 at Ladbrokes.
[global_advert id="37954″]