Diego Maradona is Getting Paid Huge Money to Attend the World Cup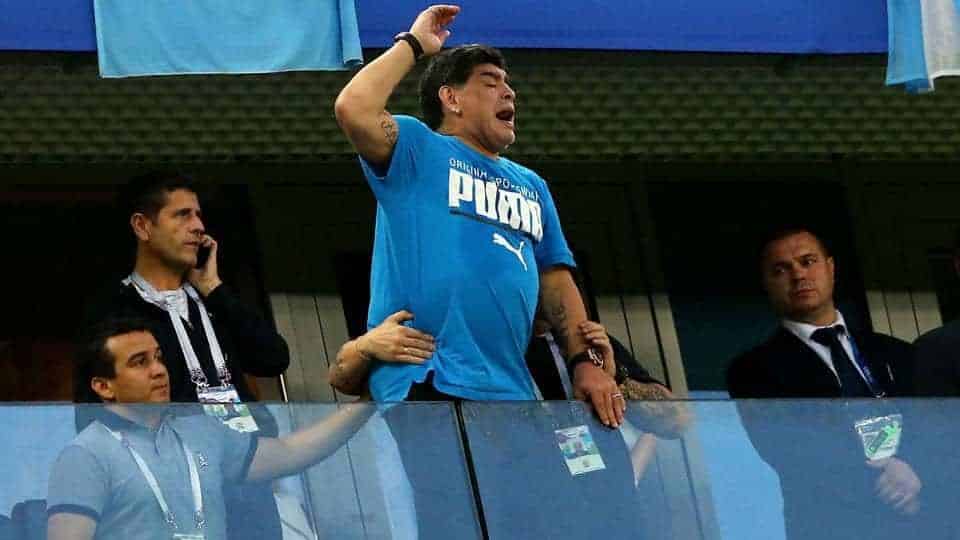 Argentina legend Diego Maradona is attending World Cup matches both as an Argentina fan, and a FIFA ambassador. His behaviour has come under close scrutiny in recent matches, but I don't think he cares.
Diego Maradona is reportedly getting paid as much as £10,000 plus expenses per EVENT he attends at the World Cup in Russia this summer. His role as FIFA ambassador has raised some eyebrows following a string of high-profile incidences during Argentina matches. He has been snapped smoking a cigar in front of a huge 'no smoking in the stadium' sign before celebrating wildly by flipping the bird to Nigeria fans when Marcus Rojo scored the 85th minute winner to send Argentina into the last 16.
During that clash with Nigeria he also looked to be struggling to stay awake, or climb the stairs in the stadium, and that led to him being admitted to hospital after the match. Maradona certainly does not seem to care about the uproar his behaviour at the FIFA World Cup is causing, but should he tone it down in front of the cameras?
Maradonna seems to be accompanied by a rather large bag of white powder on a recent flight. Might explain his antics last night ?? pic.twitter.com/T98QDm7Mgs

— Thatsagoal #WorldCup? (@thatsagoal) June 27, 2018
There have been numerous rumors that he has been taking cocaine during the tournament and a video emerged from an aeroplane which appears to show a bag of white powder next to him as he takes a shot of alcohol. There were also blatant smears of white substance on the glass balcony where he watched the Argentina vs Nigeria match from – raising suspicions among football fans.
As well as the incidents during the Argentina vs Nigeria match Maradona was also forced to explain his actions when pulling his eyes to the side and looking in the direction of South Korean fans in Russia. He posted on his Facebook page that he saw "an Asian boy wearing an Argentina T-shirt", adding: "I, from afar, tried to tell them how nice it seemed to me that even the Asians cheer for us. And that's all, guys, come on."
He has a history of drug abuse and was twice banned from football, including the 1994 World Cup and he is seen as one of FIFA's most important ambassadors – but for how much longer?
Today's World Cup Betting Tips
[global_advert id="37954″] [global_advert id="37951″] [global_advert id="37950″]
Relevant news