Russia 2018: An England Fans Guide To The Pubs, Cities and Culture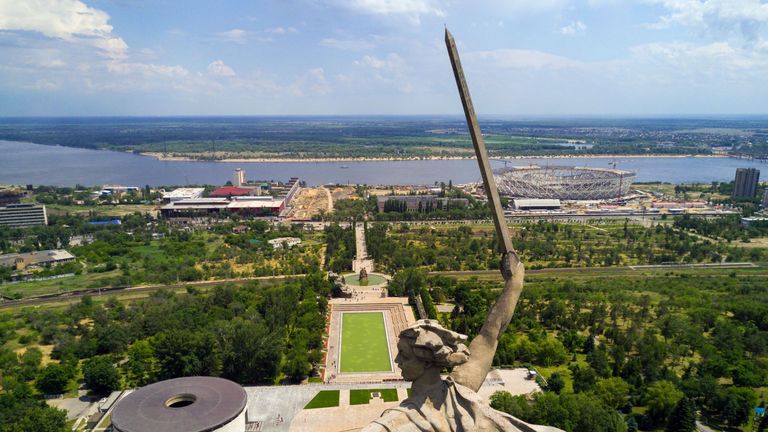 It's fair to say England fans aren't exactly being encouraged to go to Russia this summer. What with the current political climate and the fact that their football hooligans are probably now approaching the end of their "How to kick people in the face" bootcamp. But that isn't going to stop the thousands of Three Lions supporters touching down on Volgograd for their first game against Tunisia.
June 14, will get Gareth Southgate's campaign underway in Group G and there is an air of optimism about the young squad he'll possibly be taking. For them it's a chance to experience a major tournament. For the fans, it's the ideal opportunity to explore the pubs, clubs and culture of Russia.
England will visit Volgograd, Nizhny Novgorod and Kaliningrad in the Group Stage, a combined travelling distance of 2,397km (1,489 miles) as they take on Tunisia, Panama and Belgium, but what should you be getting up to in each city?
Volgograd
England start their campaign in Volgograd, the city formerly known as Stalingrad. The skyline is dominated by a monument to Mother Russia and is quite a grey and dull looking city.
Temperatures reach the 30s in the summer, so the weather could be pleasant for the travelling faithful, with the game taking place in a brand new 45,000-seater stadium.
A city well known for its battles throughout World War II, England fans will be wanting to take it a little easier and there are some good bars and restaurants to take full advantage of. Draft Craft will be a popular jaunt for England fans, offering burgers piled high and craft beers to wash them down with.
Elsewhere there are a number of good beer bars worth checking out, including Brauhaus, the Doubler Pub and Nora Craft Beer Pub. Harats will be the standard Irish pub for England bars, where you'll be able to grab a Guinness and watch the rest of the tournament, while Bamberg is worth checking out for a nice, cool German stein.
Nizhny Novgorod
England will be looking to qualify from the group in Nizhny Novgorod, where they take on Panama on June 24.
The city is the fifth largest in the country and easy to get to in a couple of hours from Moscow. It's a much prettier place than Volgograd with a large kremlin sitting on the hilltop. They'll be playing in another brand new 45,000-seater ground and for those staying a couple of days here, you really should have a look around.
There are some interesting museums and a number of decent pubs to enjoy both pre and post match. There's a varied cuisine here, with plenty of restaurants to choose from, while you'll also find a number of places for craft beer, including Shustry Shmel and Franky.
Most England fans though will base themselves firmly in the Union Jack Grand Music Pub. There's food, drink and entertainment here, so it's a one stop shop for everything you need.
Kaliningrad
England are second favourites to win the group, but this is where it could all change when they take on Belgium on June 28. A host city surrounded by Europe, Kaliningrad was once a German city and therefore there's plenty of influences, particularly with beer.
Hotels aren't the best here, with many staying further out towards the Baltic coast but there are a number of bars and restaurants to take full advantage of before kick off. Britannica is another British themed pub that will have the football on as well as top quality beers and stouts. It's open until late so the beer can keep on flowing – perhaps even to celebrate England's qualification into the Round of 16?
Other bars worthy of a pint include Khmel, Pivovar and Zotler, where you can get some fantastic meatballs to accompany your beer.
Relevant news