The Best Kits of World Cup 2022 – Our Favourite Shirts Heading to Qatar
It's that time of year again when we all start getting excited about the World Cup again. Not for the Lewandowski's, Messi's or Ronaldo's of this world, but for the kits.
Yes, we've got an entire 64 of them, home and way, blue and white, red and green and good and BAD! 
It's also the time we say "how much?!" or wonder who we'll get printed on our backs too and from the beginning of the tournament until the end that can very much change. And while there's been plenty of controversy about how England will get on in the tournament, it's also fair to say opinion is divided when it comes to the kits too, quite pragmatically between home and away.
But while many dislike the home and love the away, what are the best kits around the nations at Qatar 2022?
Well, as always, our tipsters have had plenty to say. Not only are they casting their votes on the correct score and BTTS betting markets, but also the style and sophistication the likes of Nike, Adidas and Puma are providing to the countries featuring…
So, without further ado, here are our favourites for the tournament…
Japan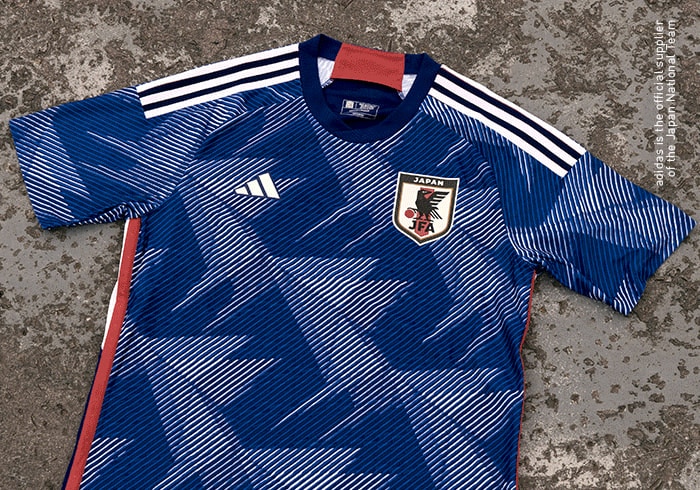 We're not sure why but Adidas seems to massively favour the Japanese. Every tournament they come away with the best kit and this tournament is no different. While the bookmakers won't be pricing them favourites, they certainly get our vote when it comes to kits.
Both home and away there's some superb design going on, with the traditional blue home shirt and white away, with origami patterns attached to both. The home kit is vibrant and will certainly be a hot seller. Even though they won't, it's a World Cup-winning worthy shirt.
France
The French have continued a stylish vibe under Nike and are carrying on in the same sort of vein as previous tournaments with the dark blue home outfit and one button collar. It's cool, and it's the sort of shirt that looks as good on a pitch as it does walking down the street.
Like Japan, they're enjoying a white away kit, with a graphic print of iconic moments and landmarks of France's history. That includes the Arc de Triomphe and visions of the French Revolution. A pretty iconic kit if you ask us…
Germany
The Germans have gone back to basics and they need to after the last few tournaments in which they've struggled. The home shirt reflects that and is in the same sort of style that many have been produced before. You've got white, you've got black and you've got gold, red and yellow. It's a classic Germany home shirt.
The away is nice looking. It's very dark, with reds and blacks, with gold trimming and a solid effort from Adidas.
Spain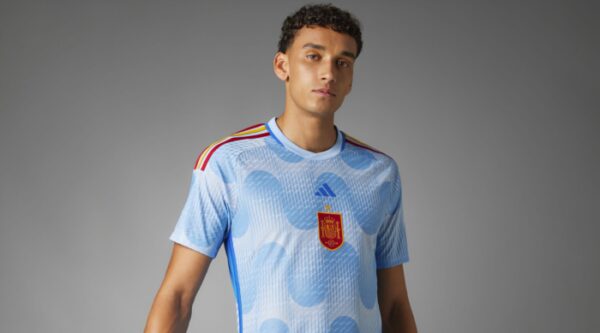 In the home shirt you've got a very Spanish football shirt. You've got a darkish red, yellow and navy – the same as always. It looks smart but it doesn't break barriers.
However, there really is something exceptional about the away kit. It's almost Gaudi-like, with cool blue colours that remind you of those holidays to Ibiza. The pattern is different but not overbearing, and there are still the reds and yellows that keep it Spanish. It's impressive, and a kit we'd certainly buy!
Saudi Arabia
If it wasn't for the politics, we'd probably be raving about Saudi Arabia's kits this year. Following on in a similar vein to Nigeria's four years ago, you've got glorious patterning and some lush greens. 
It's a shirt that's relevant for a few games only, but the Saudis are certainly going to at least look good for 540 minutes.
Netherlands
Nike have got a lot of their kits right this year, and while the home shirt for the Netherlands is straightforward and exactly what it says on the tin, we can't ignore the away strip. The blue, navy and orange is gorgeous and perhaps even our favourite kit in the tournament. 
They'll fancy their chances in Group A in Qatar and we'd love to see this kit become a classic.
Portugal
While we're not huge fans of the home shirt, Portugal's away is pretty stunning. It'll perhaps be Cristiano Ronaldo's last-ever shirt at a World Cup and it's certainly fitting. An off-white is complemented with a green and red band across the centre, with navy cuffs and collar. I'ts incredibly stylish and with the team they have, it could be one to remember.
The home shirt is less iconic. It's a diagonal half and half, which never works well.
Uruguay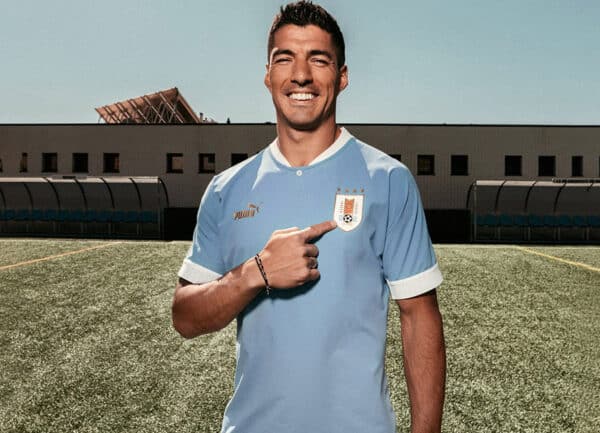 It's very much back to basics with Uruguay's home shirt, but sometimes the old ones are the best ones and that's certainly the case here. The away kit is hideous and part of a number of templates featured across the World Cup that will be better off forgotten.
However, if they stick to wearing the home they'll be looking good. It's plain "Uruguay blue" with white trim and a one single button collar. Lovely stuff.
Wales
It's an historic year for the Welsh and they will be certainly ones to watch in England's group and across the tournament. The togetherness is celebrated in both kits and you have two basic, but classic Welsh shirts that will be remembered forever.
There are nods to the past, but also a recognition that this squad are history makers and that makes for two fantastic kits for Rob Page's men to go and conquer. They're enjoying the best kits in Group A, but with the USA, England and Iran, it'll be a tough battle to get through. A little bit of Gareth Bale magic, perhaps?
Read More:
The greatest World Cup kits EVER!
World Cup 2022 top goalscorer odds, tips and predictions.
What is the best World Cup TV advert?
Relevant news