World Cup 2018 Football Predictions Group G – Tunisia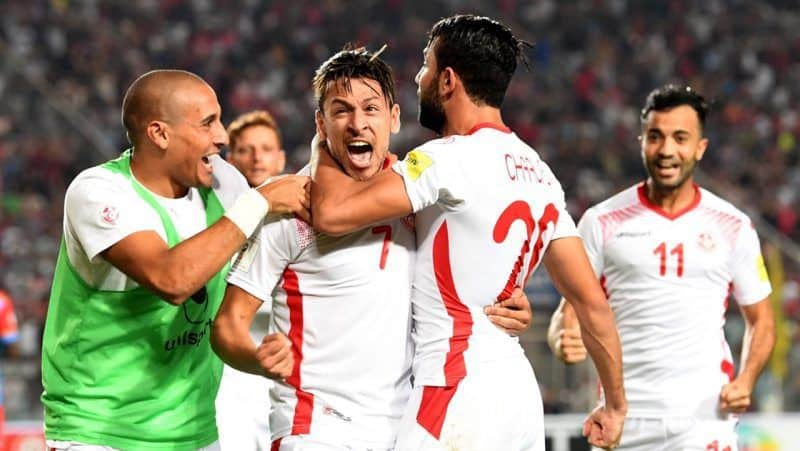 Tunisia enter the upcoming 2018 World Cup with it all to prove and nothing to lose. Whilst this will go down as their first World Cup appearance in as many as twelve years, Nabil Maaloul's side remain full of confidence and ready to try their hand in Russia.
The North Africans are yet to proceed past the group-stages in any World Cup tournament. With a tough trio of fixtures awaiting them in Group G this summer, perhaps Tunisia's collective hopes and aspirations could once again come crashing down at the 2018 World Cup.
Will Tunisia qualify from World Cup Group G?
Although Nabil Maaloul possesses some relative quality among his first-team ranks this summer, Tunisia's overall chances of qualifying from Group G seem rather reduced at best, even with some previous major international tournament experience to draw upon.
Unless England somehow squander what looks to be an easy route into the 2018 World Cup knock-out stages, and both Belgium and Panama fail to deliver on the strong form that saw them qualify for this summer's tournament in the first place, it seems somewhat unrealistic to cast Tunisia as favourites to succeed.   
Who will be Tunisia's star man at the World Cup?
Former Bordeaux and Sunderland first-teamer, Wahbi Khazri, could potentially deliver on his burgeoning potential with a string of strong performances at the 2018 World Cup in Russia. 
As Tunisia are unlikely to produce a series of show-stopping goal-scoring displays throughout Group G this summer however, perhaps we ought to look towards Nabil Maaloul's resilient back-line for Tunisia's most probable star performer.
Operating as a former reported target of multiple Premier League farring outfits, Aymen Abdennour could possibly come to the forefront for Tunisia alongside his fellow defensive counterparts.
Abdennour is particularly strong in the air, possessing the all-important ability to win possession in tight areas of the pitch. Although Tunisia will likely find themselves operating against all the odds this summer, expect the 28-year-old centre-back to once again prove his worth with the rest of the world eagerly watching on.
What are Tunisia's Group G fixtures?
England – Tunisia stand every chance of frustrating their English opposition among their opening Group G encounter. Whilst Gareth Southgate's Three Lions squad will seemingly be made up of some of the Premier League's most recognised assets this summer, a humdrum scoreless draw could potentially await the North Africans as they look to assert their cause in Russia.  
Belgium – Things do not get any easier for Nabil Maaloul's side with Belgium next on the cards. Although this team have the potential to impress at the upcoming summer tournament, most World Cup betting tips fail to envisage an easy ride for the Tunisians in their second Group G face-off.
Panama – Via their traditionally strong organisation and reliable defensive output, Tunisia should be looking to claim all the spoils against Panama this summer. Yet even with this in mind, the North Africans must nonetheless arrive at the very top of their game if they are to exit this summer's upcoming competition with a consolation victory to their name.
Tunisia's World Cup Tips and Predictions
Despite arriving at the 2018 World Cup with renewed hope and expectation on their side, Tunisia could easily drift from the main spot-light in Russia without making as much as a minor scratch on the upcoming tournament proceedings.
Nabil Maaloul has a decent squad of players at his disposal, but whether or not this Tunisian team can really go on to defy expectations remains another matter altogether. Whilst it would be nice to see the North Africans claim a few surprise scalps this summer, the prospect of Tunisian success remains wholly unlikely.
World Cup 2018 Free Bets
[global_advert id="37928″]
[global_advert id="37939″]
[global_advert id="37940″]
[global_advert id="37948″]
[global_advert id="37925″]
Relevant news