World Cup 2018 Predictions Group C – Australia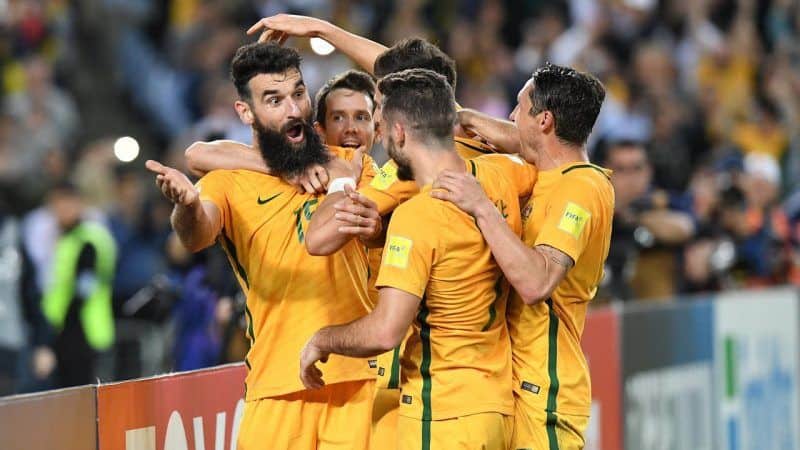 Australia have proven something of a surprise package on the international scene in recent years. After re-introducing themselves at the 2006 World Cup in Germany and appearing at every subsequent World Cup tournament to date, Australian expectations will likely be flying high once again this summer.
Will Australia qualify from Group C?
Despite their ongoing enthusiasm for the global stage, Australia's overall chances of progressing from Group C seem wholly unrealistic. In-fact, barring any dramatic slip-ups from their opening opposition this summer, the Socceroos could potentially finish bottom of the group without a single point to shout about.
Australia will likely display more than their fair share of hard-fought effort under the newly instated Bert van Marwijk, but in the end, undoubted passion and the raw determination to succeed can only take this team so far.
Who will be Australia's star man at the World Cup?
Bert van Marwijk famously led the Netherlands all the way to 2010 World Cup final. He will nonetheless have a mighty struggle on his hands in replicating the same feat with Australia, a team which seems to lack a great deal of genuine star-quality.
Despite Tim Cahill's likely inclusion in the squad even at the grand old age of 38-years-old, Huddersfield's Aaron Mooy could be the man to truly grab proceedings by the scruff of the neck for Australia this summer. If he can recover from a recent knee injury picked up among the English top-flight, the Socceroos might just have some light at the end of the tunnel to gaze upon.
Operating as a former representative of Manchester City, Mooy has something about him that most of his fellow Australian teammates fail to possess. He showcases consistent intelligence with the ball at his feet, whilst providing a regular creative force all across the final third.
Although he is far from a world-beater in the eyes of most, Aaron Mooy could effectively seal himself a big money move away from Huddersfield in the weeks following the 2018 World Cup. Several prestigious suitors are likely to come in for him, for many Premier League onlookers have been impressed by what they've seen from the 27-year-old this season.
What are Australia's Group C fixtures?
France – Australia seem destined to get off to a tough start among their initial Group C proceedings. A probable opening defeat against the French should not deter the determined Socceroos from approaching the remaining group-stage fixtures with their usual guile and enthusiasm.
Denmark – Yet Australia could also come unstuck in their second Group C face-off. Whilst Bert van Marwijk's side will likely give a strong account of themselves, Denmark may simply prove too much for Australia to handle, especially with Tottenham's Christian Eriksen pulling all the strings for the Danes in the middle of the park.
Peru – Group C's South American representatives will either falter in the most embarrassing fashion possible, or somehow prove everybody wrong and seal successful qualification from those troublesome group-stages. Either way, Australia will have to pull out all the stops to beat Peru at the 2018 World Cup this summer.
Australia's World Cup Predictions
Despite their hard-work and notorious never-say-die attitude, few are expecting big things from the Socceroos when they try their hand at the 2018 World Cup. Australia seem to lack top-flight quality in every aspect of their team, and for this they will surely suffer at the hands of their opening Group C opposition.
Then again, grit and determination often go a long way at major international tournaments. The previous World Cup in Brazil showcased many separate examples of supposed under-dogs stealing all the headlines and coming home with the spoils. Australia could feasibly begin to replicate these very same achievements in Russia this summer, but only with a large dose of luck on their side it seems.
World Cup 2018 Free Bets
[global_advert id="37928″]
[global_advert id="37939″]
[global_advert id="37940″]
[global_advert id="37948″]
[global_advert id="37925″]
Relevant news