England's Greatest Ever World Cup XI: Who Would Make The Squad?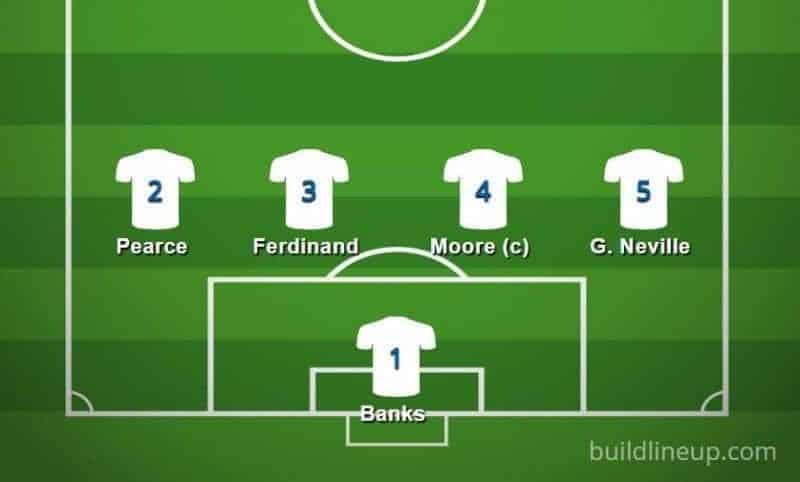 Over the years England have had some real quality within their squad. In fact, it's safe to say if Gareth Southgate's men had the spirit of '66, the heart of Pearce and Butcher and the flair, skill and talent of Gascoigne, they'd be favourites to win the 2018 World Cup!
Sadly, instead the Three Lions will be turning to Jordan Henderson, Eric Dier and as they look to get through Group G and potentially reach the knockout stages. But what if Southgate had every player from the entire history of English football to choose from? Who would be walking out in Volgograd on June 18 when England open their World Cup 2018 fixtures against Tunisia?
We take a look at who would make an all-time England XI, and it was a lot harder than we thought!
England All Time World Cup 11
Gordon Banks (Goalkeeper)
Gordon Banks was a no brainer for the England number one slot and while there have been some talented players to take the gloves, including Clemence, Shilton and Seaman, the World Cup winner gets our vote. His save against Pele is regarded as one of the greatest ever and even today there are very few who would have that kind of athleticism. When you think England have had the likes of Ben Foster, Joe Hart and Ian Walker in the not too distant past, Gordon Banks would be a god send to this England World Cup squad.
Gary Neville (Right Back)
Gary Neville just pips George Cohen here, despite the latter making the 1966 Team of the Tournament. Neville was a solid performer over a decade for his country, collecting 85 caps and forming a successful partnership with his club teammate David Beckham down the right flank. Consistent, professional and hard working, his winning attitude can't be overlooked. His brother won't be getting a place in the England all time World Cup 11 though!
Bobby Moore (Centre Half)
There are few players that are held in such esteem as Sir Bobby Moore. Captain of England's legendary '66 side, he read the game like no other and was comfortably one of the best defenders of his day. The likes of Pele and Franz Beckenbauer admires him greatly and he certainly held his own against the former back at the 1970 World Cup. We're giving Sir Bobby the armband to lead out our England World Cup 11 as well.
Rio Ferdinand (Centre Half)
It was a tough decision deciding who should stand alongside the great Bobby Moore but we've gone for Rio. One of the best centre backs of the Premier League era, he was a new breed of defender following the 90s, able to pick the ball up and play it out from the back. Butcher, Terry, Adams and Sol Campbell were also close to getting the nod, but the class of Ferdinand in possession gives him the edge. This one will cause great debate and we want your thoughts on Twitter as to whether Rio Ferdinand deserves a place in this England World Cup squad.
Stuart Pearce (Left Back)
A toss up between Ashley Cole and Stuart Pearce, it all came down to mentality. The heartbreak of missing a penalty to knock England out of the World Cup, only to score one against Spain in the Euro 96 shootout showed incredible courage and the passion that oozed out in celebration showed everything you need to know about the man.
[inline_advert ad="1″]
[global_advert id="37941″]
David Beckham (Right Midfield)
We could have, and perhaps should have, gone for Sir Stanley Matthews on the right hand side of midfield, but nobody loves representing his country more than Becks. He stepped up time and again and has broken record after record for England. He had a moment that could have ruined his international career early on when he was sent off against Argentina at France '98, but overcame it and produced moments such as the Greece free kick and Argentina penalty. On top of that, he was a better player than he's often given credit for!
Bobby Charlton (Centre Midfield)
One of the greatest attacking midfielders in England's history, Bobby Charlton had everything. He helped get the Three Lions to the final in '66 with two goals against Portugal and was a genius with the ball at his feet.
Bryan Robson (Centre Midfield)
Alongside Charlton is another Manchester United legend. Nicknamed Captain Marvel, the midfielder played 90 times for England, 65 of those as captain. His influence was staggering and he would go toe to toe with anyone. Honourable mentions have to go to the likes of Scholes, Gerrard, Lampard and Glenn Hoddle, but we really can't leave out Robbo.
Paul Gascoigne (Left Midfield)
Paul Gascoigne is perhaps the most talented player England have ever produced. A true maverick, let down only by his own demons, Gazza could turn a game on his head and his performance at Italia 90 really did showcase him on the world stage. Nobody will ever forget THAT goal he scored against Scotland and despite that being in the European Championships, it gives him the edgein a position England have often struggled to fill. We avoided the temptation to put Steven Gerrard or Paul Scholes out on the left wing like some former England managers did.
We've gone for the former Spurs man here as every side needs that player player who can make things happen. He's our man.
Gary Lineker (Striker)
Gary Lineker is England's highest ever scorer at the World Cup, so it makes sense to put him in the squad. Lineker was a lethal striker who would only need a sniff and almost got close to breaking Bobby Charlton's goalscoring record. He was well known for not leaving the penalty box, and shitting on the pitch, but that's not enough of a reason to leave the prolific crisps eater out of this England World Cup all time 11.
Harry Kane (Striker)
A little too early to put in the squad maybe, but Kane's career trajectory puts him firmly up there with England's great strikers. He's among the favourites to top score from most World Cup predictions and has 12 goals in 23 games for England. It's expected he'll go on to break the record and will undoubtedly be his country's talisman for many years to come. It's a bit harh to leave Wayne Rooney out of this squad given he is the all time leading England goalscorer, but the Everton man never quite hit the heights at major tournaments, while Harry Kane still has time to prove himself.
England's All Time World Cup Starting 11
[inline_advert ad="1″]
[global_advert id="37941″]
Relevant news