FREE TO PLAY – Pick 10 Goalscorers for your chance to win £1,000,000
To play Grovsnor Goals, you have to pick a goalscorer from each of the weekend fixtures and if they all score the first goal of their games, you will win £1,000,000.
If all 10 of your players score anytime in the matchm you win £10,000.
If three of your 10 players score the first goal of the games, you get a £10 free bet.
JOIN NOW – PLAY GROSVENOR GOALS FOR FREE
Each weekend you will get the chance to submit your entries for free, similar to the Sky Bet Super 6 weekly competition. You can submit your picks up to 5 minutes before the first match of the weekend kicks-off.
Grosvenor Goals Tips this Weekend
Below you will see the selections I have made on the Grosvenor Goals free to play game. Once you have selected all your players you just need to log in to your account and submit them. Then you have your entry complete and you can sit back and enjoy this weekend's Premier League football. The more goalscorers you get right, the more chance you have of scooping a big prize this weekend.
How do I get a Grovsenor Sport account?
The account is free to open and you just need to follow one of the links on this page to get your account ready. If you do decide to place a bet with Grosvenor you'll also get their amazing sign-up offer of DOUBLE ODDS for your first bet – for example, if you bet on a 10/1 accumulator, you'll actually get odds of 20/1 for that bet.
To play Grosvenor Goals you need an account – JOIN GROSVENOR FOR FREE HERE.
How to submit your Grosvenor Goals entry:
1 Sign into your Grosvenor Sport account or join for free via this link
2 Go to Sport > Grovsenor Goals
3 Press Make Picks
4 You'll see the matches set out like this, pick a goalscorer in each one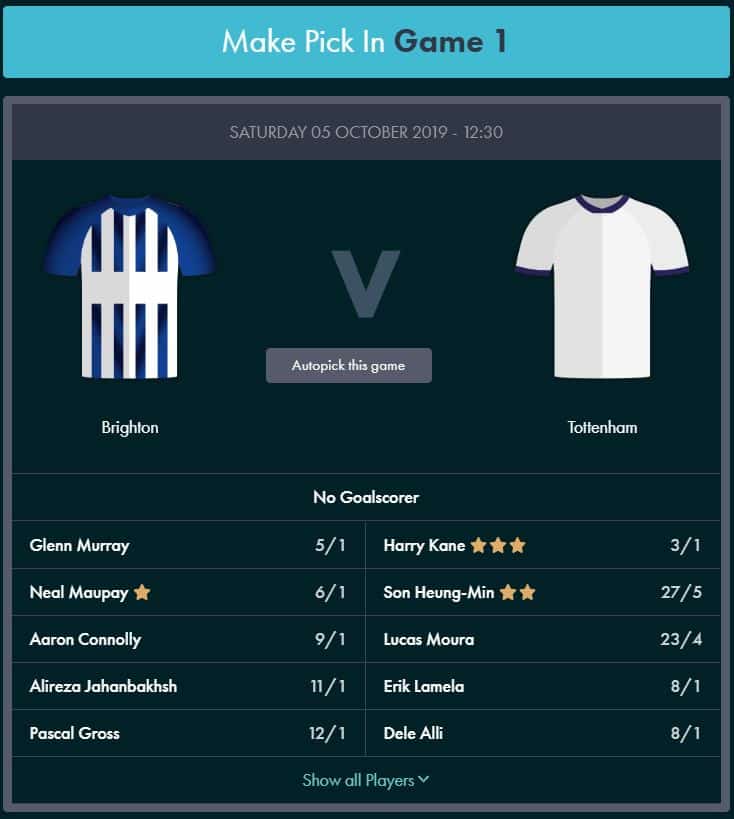 5 Once all the matches are picked, submit your entry for free
JOIN NOW – PLAY GROSVENOR GOALS FOR FREE VIA THIS LINK
Relevant news