Premier League Relegation Betting Odds – Promoted Teams going Straight Back Down?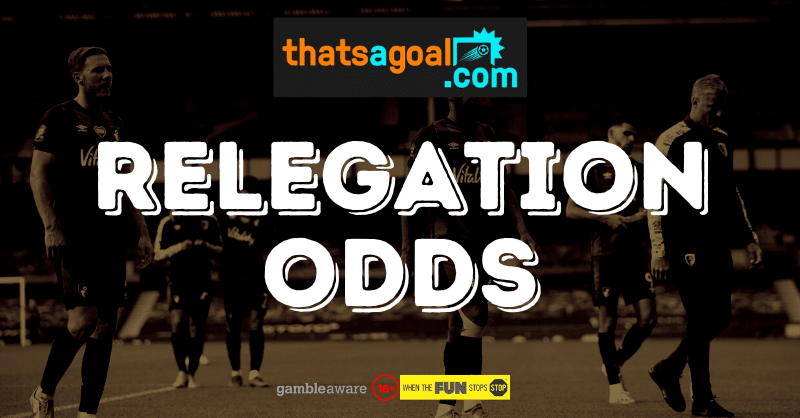 The relegation betting market is always an interesting one and it's a market that can be backed often until the last day of the season.
While the likes of Manchester City and Liverpool run away with the division at the top, at the bottom there's always a handful of teams at the bottom, fighting until the bitter end.
Here at That's A Goal we're always keen to keep an eye on both ends of the table and the Premier League relegation odds can always provide a good few bets, whether that be the beginning of the season or the end of it.
That's why you'll find the latest relegation odds on the Premier League right here across the season, as well as a number of tips and bits of information to keep you in the loop with what's going on…
The Latest Premier League Relegation Odds
We scour the very finest bookmakers across the UK to find the best value betting odds on the relegation market, including the likes of bet365, SBK and more. Below you'll find the very latest Premier League relegation odds to place your bets on…
Bournemouth – 4/7
Nottingham Forest – 8/13
Leicester – 2/1
Southampton – 31/10
Everton – 7/2
Wolves – 4/1
Leeds – 5/1
Fulham – 13/2
Aston Villa – 8/1
Brentford – 41/5
Crystal Palace – 10/1
West Ham – 12/1
Brighton – 40/1
Newcastle – 50/1
Man United – 500/1
Chelsea – 1000/1
Tottenham – 2000/1
Liverpool – 2500/1
Arsenal – 2500/1
Man City – 4500/1
Premier League Table: How Relegation Is Looking
Of course, a large part of betting on relegation is knowing who's down at the foot of the league. We make sure you're fully in the loop and can make informed decisions at every stage of the season.
Below you'll find the table as it stands…
Premier League Upcoming Fixtures
Naturally, a big part of who will stay up and who will go down is the run-in they have. A difficult run of fixtures can see a team plummet in the league and that can have a real impact on the lay of the land when it comes to who may go down. 
That's especially the case towards the end of the season, where points can become like gold dust. All this can have a large impact on the relegation odds and the outcome of the table come the end of the season, so it's always worth checking out the upcoming fixtures.
Premier League To Stay Up Latest Odds
Of course, it isn't just betting on relegation you can enjoy when it comes to the Premier League, you can also bet on the teams you fancy to stay up. Right across the season you can bet on this outright market, and it's particularly enjoyed at the beginning as punters cast their votes on who they believe will manage to survive the long old season in the division.
However, there are many times throughout a season when you may be tempted to back this market, such as a relegation candidate going on a good run of form, hiring a new manager, or doing a good bit of business in the January transfer window.
As always, we provide you with the best value odds for this market, from our favourite bookmakers and the bet365 sign-up bonus is always a good offer to use when betting on Premier League odds…
Bournemouth – 13/8
Nottingham Forest – 6/4
Leicester – 2/5
Southampton – 1/3
Everton – 1/4
Wolves – 2/9
Leeds – 1/7
Brentford – 1/7
Fulham – 1/8
Aston Villa – 1/12
Crystal Palace – 1/14
West Ham – 1/20
When To Bet On Relegation Odds
There will be plenty of opportunities to bet on relegation odds across the season and it's always interesting, particularly as we reach the second stage when results really do start to matter. 
In some instances, there will be little value in betting on it. For example, if a team is cut adrift at the bottom of the league then they're going to be odds-on to go down. However, if a team has a bad run of form or you have a gut feeling they may go down, then it could be a good time to take a look at the market.
When it comes to betting on the relegation market, you may wish to take a look when:
A team has a poor run of form
If a team is clearly struggling and there seems to be no end in sight, it could be worthwhile checking the relegation odds early to get maximum value from them.
A team loses a key player
Key players can be hugely influential in a club's survival and if a team loses theirs for a significant period of time, the writing could be on the wall. That may be through injury or having been transferred in the winter window.
Managerial changes
A manager sacking can really change the direction of the relegation positions. The effect of a new manager can usually see teams begin to pick up points, which could leave other teams in a difficult position, while bad appointments could also cause further trouble. Weigh up how you think managerial changes may impact a team and place your bets accordingly.
Premier League Relegation Free Bets
If you're looking to bet on the relegation market but are a little unsure as to how it may play out, the best way to back a team for relegation is through a free bet. There are dozens of great bookmakers that offer free bets and welcome bonuses, which can be perfect for this market.
Read the terms and conditions, however, as some free bets do have expiry dates. 
Fancy earning yourself one? Then take a look at some of our favourite free bets to sign up to below.
Read More:
How xG can help your football betting.
World Cup 2022 betting tips and preview of Qatar.
Dazn Bet launch new £5 welcome bonus.
Relevant news