US Masters Betting Odds 2023 with bet365: Scheffler, McIlroy and Rahm the Favourites for Augusta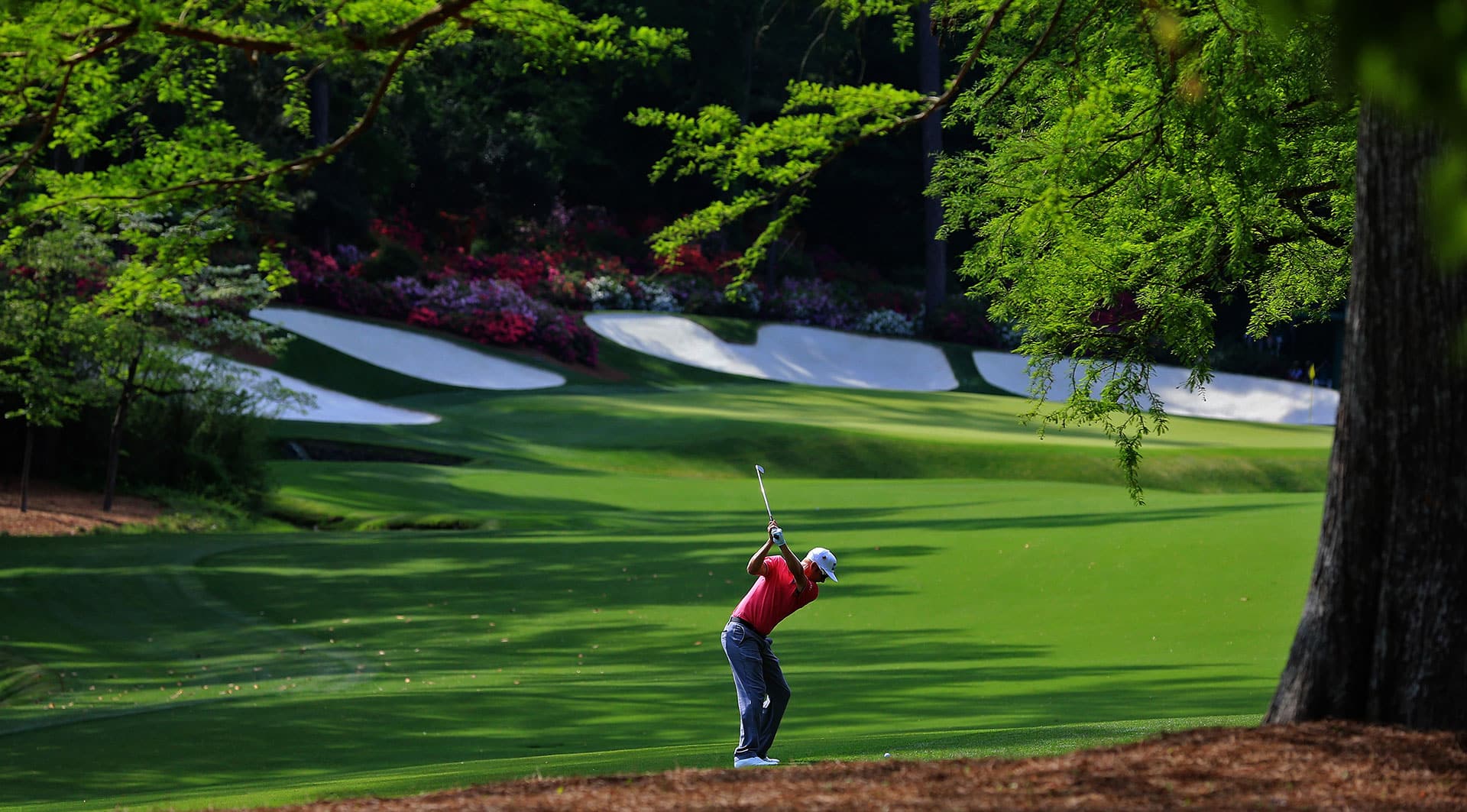 The 2023 US Masters is just around the corner and bet365 have been through the latest betting odds for the main contenders around Augusta. There have been some iconic winners over the years and this year Scottie Scheffler is looking to retain his title.
People will be looking for US Masters each-way bets but the reality is that the last five winners have all been towards the top of the betting odds including last year's winner Scottie Scheffler (who is favourite for the 2023 Masters), Patrick Ried and Dustin Johnson.
bet365 have looked at some of the US Masters odds for this year, focusing on the players towards the top of the market.
Scottie Scheffler
So fickle is golf that a couple of weeks ago, Scheffler was joint-favourite with Rahm after his PLAYERS success, but after a disappointing showing from Rahm at the WGC Match Play, with Scheffler reaching the semi-finals, Scheffler has gone to outright favourite, and could well become just the second golfer in Masters history after Nick Faldo to win his first two Green Jackets in back-to-back years.
Though he only has three years' experience to draw on, he's been top-20 in all three of those years and of course coasted to victory last year.
Like Rahm, he hits the ball a mile and has a terrific short game; two key attributes for success at Augusta.
Rory McIlroy
Surely he'll win it eventually? Rory McIlroy has the perfect game for Augusta. Like the two ahead of him in the betting, he's long off the tee – longer than Scheffler and Rahm – favours a right to left ball flight, and while his short game has never been stellar, it's always been above average.
You don't record seven top-10s in your last nine appearances without feeling comfortable at a course.
But until he wins it, the ghost of 2011 will continue to loom over the Northern Irishman. McIlroy was of course still just 21 years old when leading the Masters on the back nine on Sunday, and despite winning all three other majors, he's yet to exorcise that particular demon.
Jon Rahm
His scintillating form saw him pull clear of Rory McIlroy and Scottie Scheffler as favourite for THE PLAYERS Championship, but McIlroy's runner-up finish the previous week saw him head the market.
Of course, Rahm withdrew after the first round and McIlroy failed to play the weekend, paving the way for Scheffler add THE PLAYERS to his growing list of honours.
But it's tough to make a case for Rahm not being there or thereabouts once again, even if his recent form reads T39-WD-T31. He's never really contended down the stretch on Sunday, but has been top-30 in all six appearances, has four top-10s, and has no significant weakness to his game.
Jordan Spieth
Perhaps the most unpredictable golfer in the world, the only guarantee with Jordan Spieth at the moment is a wild ride.
He shared the lead after the first round of this year's Sony Open, only to shoot a 75 – 11 shots worse – the following day to miss the cut. He also shot the round of the tournament at the Phoenix Open in round 2 with a 64. More recently, he opened with an eagle in the third round of the Valspar Championship, only to card five birdies and five bogeys in the rest of the round.
That said, his form is improving. In his last six events. he has a top-20 at THE PLAYERS, a top-10 at the Phoenix Open and two top-5s at the Arnold Palmer and the Valspar, and it reads similarly to his form coming into the 2021 tournament, where he finished T3 – his fifth top-3 finish at Augusta.
Cameron Smith
The shortest price of the LIV golfers and something of an unknown quantity. The Australian has a stellar record at Augusta with four top-10s in his last five appearances, but in moving to LIV it's hard to assess his form coming into the tournament.
But considering his record at Augusta and his superb short game, it wouldn't be a surprise to see him contending once again.
Justin Thomas
One of the lesser-talked-about players at the moment, Justin Thomas's form dipped after his PGA Championship win last season, and while his form (5-T25-T25-4-T20-T21-T60) is solid, it may not be until he wins again that people sit up and take notice.
But he's got a good record at Augusta and has the game for the course. Form figures of T22-T17-T12-4-T21-T8 suggest he feels more comfortable at the Masters with each passing year, and it's a major well within his reach.
Patrick Cantlay
Over the last six months, you could argue Scottie Scheffler is the only American in better form than Patrick Cantlay, but something seems to happen to the 31-year-old in majors.
He's won two FedEx Cup events – one via a marathon play-off with Bryson DeChambeau – as well as the TOUR Championship, but despite a handful of decent finishes at majors, he's yet to get anywhere near one, and has undoubtedly underperformed given his ability.
He's good enough to compete at Augusta, but his major record is a concern.
Collin Morikawa
Unquestionably one of the best ball-strikers in the world, but it might be that the Masters is one major that eludes Collin Morikawa.
Despite his fifth-placed finish last year, he prefers to fade the ball – not an ideal shot shape for Augusta – isn't particularly long off the tee and has a fairly shaky short game.
That said, with two majors wins in his first eight starts, Morikawa's talent, especially on the big stage, is undeniable.
Xander Schauffele
A strong all-round game, has regularly featured in leaderboards in majors, now being considered one of the best players without a major… it's a story we've heard before.
But you can't argue with his major record, nor his Masters record; with two top-trees in his last four appearances – one of which included sharing the lead on the back nine on Sunday before being ousted by a certain Tiger Woods, it wouldn't be a shock to see him on the leaderboard once again.
Jason Day
Cut from 33/1 to 22/1 after securing his Masters place, how good it is to see Jason Day returning to form. Overtaking the seemingly unsurpassable Jordan Spieth in 2015, Day won the PGA Championship ahead of his rival, following up with two FedEx Cup events and had a stellar 2016, winning a WGC and THE PLAYERS.
But after struggling with back issues which threatened to curtail his career, as well as his mother's illness and eventual passing, Day seems to be getting back to his old level, recently winning his group containing Collin Morikawa at the WGC Match Play, before being beaten 2&1 by Scottie Scheffler in the quarters.
He's finished 21st or better in 11 of his last 12 events with five top-10s thrown in and has lots of Masters experience to lean on, coming close in 2011.
His last two finishes of MC at Augusta can probably be ignored, however since returning to the fold, he's sacrificed distance for accuracy off the tee, which isn't likely to help at the Masters.
Cameron Young
Cam Young made a quick impact at majors with a T3 finish at last year's PGA and a runner-up finish at The Open behind namesake Smith.
His short game isn't a substantial stumbling block to success at the Masters, and he's one of the longest hitters on tour, but after his missed cut on debut last year with a poor showing on the greens, it may still take Young time to take the Augusta bentgrass.
Dustin Johnson
Next on the list of LIV rebels is 2020 champion Dustin Johnson. Another on the long list of players who hit it a mile and have good records at Augusta (spotting a pattern here?), Johnson's excellent Augusta finishes since 2015 read T6-T4-T10-T2-1-CUT-T12 – and that's not including the year he had to withdraw when well fancied by many as favourite and world number one in 2017.
He's still operating at a high level on the LIV Tour, and considering his liking for the Masters, don't be surprised to see him contending again.
Max Homa
In about 12 months, Max Homa has gone from being the funny guy on the PGA TOUR, to one of its best players.
A terrific ball-striker and strong putter, he's flown up the world rankings and it's hard to see him not making the Ryder Cup team later in the year.
That said, his relative anonymity only a couple of years ago means he doesn't have any stellar major experience to call on, with his Masters finishes reading CUT-CUT-T48, and with him not being the best driver, the rest of his game will need to be near-perfect to contend at Augusta.
Tony Finau
In the form of his life since last July, Finau managed three PGA TOUR wins in the second half of 2022 and his form this year has been rock solid too.
He's not finished outside of the top 25 of a tournament since last November with his iron play and putting as sharp as they've ever been. Whether he's peaked too soon remains to be seen, but it's not impossible he adds to his three top-10 finishes at Augusta.
Will Zalatoris
The next major champion in waiting. After joining the Korn Ferry Tour in 2020, Zalatoris's major finishes are an incredible T6-2-T8-CUT-WD-T6-2-T2-T28, including a runner-up finish on his Masters debut.
Even his deeply unsettling putting stroke seems to fix itself for the majors and he's taken well to Augusta's pacey greens.
Although his form is mediocre, he often saves his best for the big four, and if he continues his strong putting at Augusta, he may well contend again.
Sam Burns
Sam Burns has the incredibly rare trait of being both long off the tee and an excellent putter, and while accuracy doesn't hold much weight at Augusta, he should be a good fit for the Masters.
However Burns is a golfer who clearly favours one type of grass to another, and it's not what he'll find on Augusta's greens. While he's made the cut in 70% of Bermuda grass and bentgrass events, he's been in the top 25 of nearly half of his Bermudagrass events compared to less than a third on bentgrass.
He's arrested a decline in form with figures that read CUT-CUT-T35 after finishing 6th at the Valspar and winning the WGC Match Play, but – you guessed it – both have Bermuda grass greens…
Viktor Hovland
An elite ball-striker who hits the ball plenty far enough, everyone knows Viktor Hovland's one, glaring weakness – his chipping. There are so many holes around Augusta where you'll need to get up and down for par or birdie, and Hovland simply can't rely on that part of his game.
His record around Augusta reads T32-T21-T27 – not poor by any means, but below the level expected of a golfer like Hovland, and his record at majors still leaves lots to be desired, with his best finish being T4 at last year's Open, where he was able to reach a number of greens from the tee and could putt from the ones he missed.
Sungjae Im
With a record of T2-CUT-T8, it's hard to know exactly what to expect from Sungjae Im around Augusta, especially when the MC saw only past champions and amateurs shooting higher than the South Korean, with Ian Woosnam and Sandy Lyle outscoring Im.
An excellent ball-striker with a strong short game, he can certainly compete as we've seen in spite of his limitations off the tee, but questions marks remain.
Matthew Fitzpatrick
The reigning US Open champion has had a tough time of it of late, missing the cut in three of his last five events. While he'd always struggled with distance, it seemed that with that part of the puzzle solved in early 2022, there'd be no stopping the Englishman. He was still accurate from the fairways, sharp around the greens, but was suddenly hitting it far enough to contend at majors.
The Masters therefore presents a real quandary. He's had a top-10 and two top-25s, and that's while being a shorter hitter, thanks largely to his short game and good putting. Those facets of his game are still there, but while battling a neck issue this season, his approach play has fallen apart.
Fitzpatrick could absolutely follow in the footsteps of fellow Yorkshireman Danny Willett, but his form needs to improve quickly.
Hideki Matsuyama
The 2021 champion certainly had the game for Augusta, with form figures of 5-T7-T11-19-T32-T13 prior to his win, and he finished T14 after winning in 2021, but his form isn't quite what it was when he won here two years ago.
He's still strong around the greens, and he's actually been putting better than ever but the laser-sharp iron play that won him a Green Jacket hasn't been as strong and will need tightening up to contend again.
Tyrrell Hatton 
Away from Jon Rahm, Tyrrell Hatton is Europe's form player – yes, even ahead of Rory McIlroy. He has top-10s at the Phoenix Open and Arnold Palmer Invitational, and raced up the leaderboard to finish second at THE PLAYERS thanks to a back-nine 29.
But – and it's a big but – Hatton does not like Augusta. He let loose on the setup of the course after a miserable weekend showing last year and admitted it's not a course that suits his eye, and one where he rarely plays well.
How to claim a US Masters Free Bet at bet365:
1 Tap this link straight to the bet365 welcome offer
2 Click "View Latest Odds"
3 Fill in the form
4 Place a £10 bet
5 Get £30 in free bets
Relevant news