How to use the 2 up offer at bet365: Get paid as a winner if your team goes 2 Goals Ahead
bet365 will pay your bet out as a winner if the team you picked goes 2 goals ahead.
This offer also applies to selections when they're in an accumulator bet and it's certainly one of the best bookmaker promotions around at the moment.
To use this offer, first you need to have a bet365 account, and then you should check the terms and conditions for the offer. We have outlined them below for you but one of the big questions we get asked is "Which leagues can you use the bet365 2-up offer on?" The answer to this is the following leagues: English Premier League, English Championship, English FA Cup, English EFL Cup, Spanish Primera Liga, Italian Serie A, German Bundesliga as well as Group Stage matches from the UEFA Champions League and UEFA Europa League.
Min deposit £5. Bet Credits available for use upon settlement of bets to value of qualifying deposit. Min odds, bet and payment method exclusions apply. Returns exclude Bet Credits stake. Time limits and T&Cs apply.
How does the 2 up offer at bet365 work?
If you bet on any team to win a match from one of the leagues stated above and they go 2 goals up at any time in the match, you will get paid out as a winner. It doesn't matter if the team doesn't win the match, as long as they have been leading by two goals you will get paid as a winner. e.g. if Man City are playing Liverpool and Man City go into a 2-0 lead, you will get paid out as a winner if you bet on Man City, even if they then fail to win the match.
"For single bets, if the team you back to win goes 2 goals ahead at any stage during the match, we will pay out your bet in full regardless of whether the opposition comes back to draw or win the match."
The offer is only available to new and eligible customers so check your account to be sure that you can take part in the 2 up offer at bet365.
You have to place your bet before kick-off, so in-play bets DO NOT count towards the bet365 2 up offer.
This offer will not apply where a stake has been fully Cashed Out. Where a stake has been partially Cashed Out and your team goes two goals ahead, the bet will be settled on the remaining active stake.
Bet365 2 up offer on accumulators
The bet365 2-up offer also applies to football accumulator bets – so if you have a selection in your accumulator from one of the qualifying leagues and that team leads by two goals in any stage of the match, that leg of the accumulator will be settled as a winner.
You will see the selection marked as won in the 'My Bets' section where you'll find the rest of the accumulator. Again, it doesn't matter if the selection goes on to lose or draw the match as you have already been paid out as a winner.
When using the bet365 2 up promotion always make sure you are betting on leagues that qualify for the offer. A lot of the time we find people betting on leagues such as the Scottish Premiership and English League One or League Two hoping to get a 2-up early payout, but these leagues do not qualify for the offer.
When using it in an accumulator though, it is fine to have some leagues included in your bet that are not on the offer – however, it will only be the selections from the leagues that do qualify that will have the chance of being settled early under the 2 nil up offer at bet365.
Does it matter what the score is for the bet365 2 up payout?
No. It doesn't matter if your selected team go into a 2-0 lead, a 3-1 lead or a 4-2 lead. As long as they have taken the lead by two goals in the match, bet365 will pay that selection out as a winner for you.
It also does not matter what the full-time result is when you have already been paid out. The most important thing is that you remember to double-check which leagues qualify for the offer because it may be that some of your teams have gone 2-0 up but you haven't been paid out. This will likely be because they are in a league that does not qualify.
bet365 2 up Strategy
Unless you are looking to take part in matched betting using the 2-up offer at bet365, there isn't much strategy to using the promotion. You should just look to pick teams that are capable of scoring goals and then you'll have a chance that they will get into a 2-0 lead. This is particularly good if you are betting on a Premier League match where you want to bet on the outsider to win.
For example, Manchester United recently played Manchester City at the Etihad Stadium and went 2-0 up in the first half. Once this had happened you will get paid out as a winner no matter what the result of the match was, so your bet on Manchester United to win would have been a winner even if City had come back to draw 2-2 or even win the game.
One strategy when using the bet365 2-up promotion could build on this and you just look to bet on an outsider to win the match. Earlier this season Norwich lead Manchester City by two goals before City almost came back to snatch a point. Norwich were double-figure odds to win that match and if you'd have bet on them using bet365, you would have been paid out as a winner as soon as they went 2-0 up.
How to guarantee profit from the bet365 2 up offer
Some people have tried to guarantee profit using the bet365 2 up promotion by using what is called 'matched betting'. This means that you cover all angles when placing your bets and use Betfair Exchange to lay the bet. To use this profit guarantee method you need to pick a match where the odds for both teams to win are quite close. So it would not work well if you picked a match such as Liverpool vs Bournemouth where Liverpool are strong favourites.
See the example below as a way in which you can use the bet365 2 goal sup promotion to guarantee profit:
Match Odds: Liverpool (odds 2.5) are playing Manchester City. The odds to LAY Liverpool are 2.52.
1 Bet £100 on Liverpool to win at bet365 (you qualify for the 2 up promotion).
2 Use Betfair Exchange to lay Liverpool for £100 (liability £152)
Outcome: Liverpool lead the match 3-1, so you get paid out as a winner at bet365 – giving you a £150 profit from that £100 bet.
The odds to lay Liverpool have dropped to 1.3 on Betfair Exchange because they are ahead, so cash your lay bet out. This will give you an overall loss of £120 on Betfair Exchange rather than the full £152 liability. This is because there is still a small chance that Liverpool will fail to win the match.
Whatever happens in the match now, you have guaranteed yourself a £30 profit and it doesn't mater what happens in the remainder of the match.
You could take the gamble and leave your lay bet in place, if Manchester City then come back to draw or win, you would also win your Liverpool lay bet. This would give you a total profit of £150 from the bet365 early payout, and a £100 win from the Betfair Exchange lay bet (minus commission). Total win £247.
bet365 2 goals up offer Champions League
When you are betting on the Champions League, you will qualify for the 2 up offer as long as you have an eligible account. This will be indicated in your bet365 inbox once you've placed a bet.
As per the bet365 terms and conditions for the 2 up promotion, this offer can be used on the UEFA Champions League matches so if you either bet on a team to win or add a team to win into your Champions League accumulator, you will get paid as a winner if that team goes ahead by two goals in the match, no matter the result.
How bet365 early payout looks on your account
When you have placed a bet that includes the early payout offer, you will see something like this on your account. It shows which teams have gone 2 goals ahead and therefore the bet has been paid out. In this example, the punter placed a bet on Arsenal to win against Crystal Palace and Arsenal went into a 2 goal lead so the 2-up promotion clicked. However, Arsenal didn't win that match so if you'd have used any other bookmaker the bet would have been a losing one.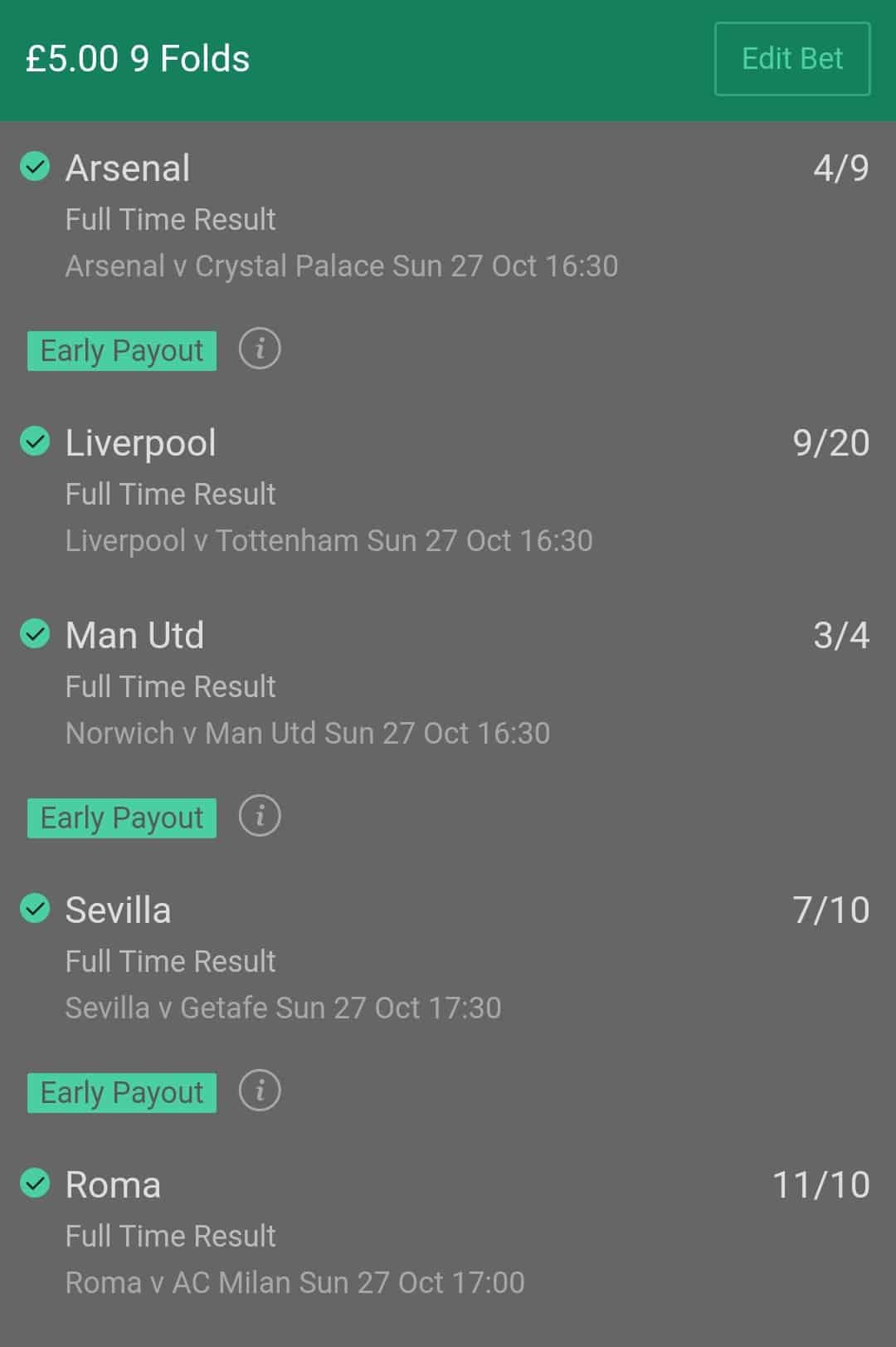 Here is another example of bet365 2 up early payout promotion working perfectly:
Bet365 early payout limbs 👍 pic.twitter.com/KC12NxuHeb

— Lewis (@everton1992) March 5, 2018
Crystal Palace went 2-0 up in this match so the punter was paid out as a winner. However, Manchester United came back to win the game 3-2 so the bet would have been a loser at any other bookmaker! Always use the 2 up offer at bet365 when betting on qualifying leagues!
How to get the bet365 £100 sign-up bonus:
1 Join bet365 using this link in your country
2 Fill in your details
3 Claim the 'up to £100 in bet credits' sign-up offer
4 Start using the bet365 2 up promotion
Relevant news