Fantasy Football Tips – Who are the best Premium Midfielders & Forwards to pick?
This season more than ever, there seems to be an abundance of premium options in FPL. No fewer than 15 players are currently priced at £9.0m with possibly more likely to come.
It's these £9.0m+ assets we'll be focussing on in this Fantasy Football help article, so premium defenders like Trent-Alexander Arnold (7.5) and Andry Robertson (7.0) will have to wait their turn.
Here's a quick look at what each option could offer this season:
Premium Midfielders
Midfield options in Premier League Fantasy Football have arguably proved more valuable that forwards in recent seasons. The emergence of the likes of Mo Salah, Sadio Mane and Raheem Sterling as 'inside forwards' means they are getting more attacking returns than most forwards in the game. One bizarre choice from the Premier League this season is to add Pierre-Emerick Aubameyang as a midfielder on FPL, a decision that will see him as one of the highest selected players, and probably one of the highest scoring.
Mo Salah (12.0m) – Liverpool
We begin with last season's 2nd highest FPL point-scorer. Salah has put together back-to-back 200+ point seasons after his record-breaking 303-point campaign in 2017/18.
29 direct goal contributions last season is his lowest total since joining Liverpool. If he can match or better that then he is sure to provide plenty of value throughout the season. For many, it will be a straight shoot out between him and his 12.0m teammate for a spot in their team.
Sadio Mané (12.0) – Liverpool
The Senegalese international is yet to outscore Salah over the course of an entire season but is certainly a viable alternative. Like Salah, Mané has a consistent track record of premium-level points returns. 28 direct goal contributions is his best return yet, despite reduced playing time due to injuries.
Pierre-Emerick Aubameyang (12.0) – Arsenal
Now classified as a midfielder, Aubameyang completes the trio of 12.0m assets. 22 goals in consecutive seasons highlight his incredible goal threat, be that from center-forward or the wing. Additional points for goals and clean sheets more than make up for his increased price compared to last season.
Kevin De Bruyne (11.5) – Manchester City
No player outscored De Bruyne's 251 points last season so it's slightly surprising to see three players priced higher. Nonetheless, KDB is certainly an expensive pick but he more than justifies that with an incredible 36 direct goal contributions last season.
Some regression is possible given this is 9 more than his previous best but you'd be brave to bet against him.
Raheem Sterling (11.5) – Manchester City
Continuing the theme of record highs is Raheem Sterling. The England international hit 20 league goals for the first time in his career, eclipsing the 18 and 17-goal hauls from the two previous campaigns.
Despite this, Sterling's 26 goal contributions last season was his lowest return during that period. Even so, Sterling is set to offer plenty of explosive potential amongst the rests and rotation.
Bruno Fernandes (10.5) – Manchester United
Penalty-enthusiast Bruno Fernandes has received a significant price rise, yet could still offer plenty of value. The Portuguese international is vital to Manchester United and has been heavily involved in their attacks since joining. The amount of penalties he takes is likely to regress but will his value?
Marcus Rashford (9.5) – Manchester United
Another reclassified fantasy asset, Marcus Rashford will be available as a midfielder this year. His price has gone up as a result but if he can replicate his 17 goal-return from last season, Rashford could be a smart investment. He has improved his points total in each season since breaking into the first team, with his most significant rise (49 points) coming last season.
Heung-Min Son (9.0) – Tottenham
The final premium midfield option is no stranger to this category. Son has scored 150+ in each of his last four seasons. He has been remarkably consistent in this period, managing between 18 and 22 direct goal contributions in each campaign.
Read More: How should you navigate the blank gameweek 1 for Man City and Man United?
Premium Forwards
Sergio Aguero and Harry Kane have been the two stand-out top-priced forwards in recent seasons of FPL, but Aguero is injury prone and Kane is playing in a Mourinho side that might not score as many goals as Spurs in the past. Jamie Vardy is always an ultra-reliable FPL option and there is Chelsea's new signing Timo Werner to consider.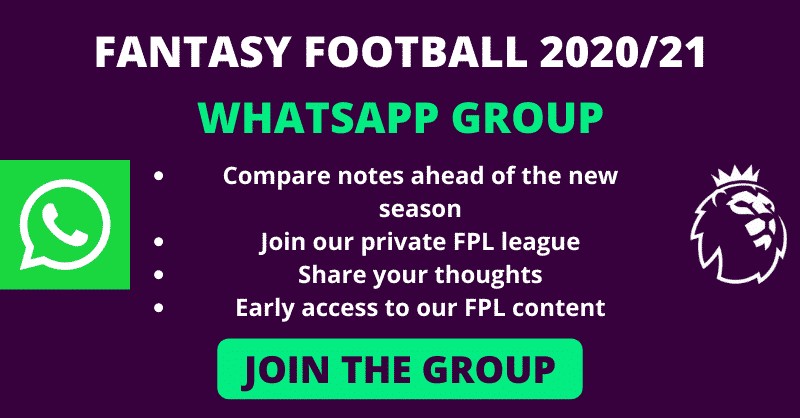 Sergio Aguero (10.5) – Manchester City
In seasons gone by, FPL managers would have snapped your hand off for the prospect of Sergio Aguero at £10.5m. Nowadays, Aguero increasingly shares his minutes with Gabriel Jesus and is somewhat of an unpredictable prospect. However, having managed 24 goal involvements from just 1449 minutes highlights his short-term potential at various points in the season.
Harry Kane (10.5) – Tottenham
Similarly to Aguero, Harry Kane's pricing is lower than usual. Injuries reduced Kane's minutes meaning he was unable to net 20+ goals for a second successive season. If Tottenham's talisman can get back to his very best and avoid injuries, he will likely surpass the 200-point mark for the fourth time.
Jamie Vardy (10.0) – Leicester
Last season's Premier League top goalscorer receives a £1m increase from last year's starting price. Vardy managed 30 direct goal contributions in 2019/20, his best return since Leicester's title-winning campaign. He is absolutely integral to the Foxes but will be turning 34 very soon and a decline could be on the cards, particularly with Europa League involvement.
Timo Werner (9.5) – Chelsea
Currently, the only new signing to be priced as a premium asset from the off, Timo Werner comes in at £9.5m. The Germany striker finished second in the Bundesliga scoring charts and joins a very attacking new-look Chelsea side. He is in over 43% of teams at the time of writing and could offer great value this season.
Roberto Firmino (9.5) – Liverpool
Consistent perhaps, but it's difficult to see how Firmino can offer too much value at this price point. His lack of home league goals was well documented last season and the Brazilian has never scored more than 15 PL goals in one season. In five seasons, 23 direct goal contributions is his best return. There are simply too many good Liverpool options to make Firmino viable.
Gabriel Jesus (9.5) – Manchester City
Manchester City's Brazilian forward could become a great option at some stage this season. His price offers value if he can guarantee minutes, but it's a big 'if' when Sergio Aguero is fit. Nevertheless, should Aguero suffer injury issues once again, Jesus could improve on his 146-point haul in the 2019/20 campaign.
Anthony Martial (9.0) – Manchester United
Rounding off our premium list is a third reclassified player. Anthony Martial avoids a big price hike thanks to his move into the 'forwards' category. The Frenchman had his most prolific season, matching Rashford's 17-goal return. Playing through the middle for a resurgent Manchester United could see Martial outperform his £9.0m valuation.
Play Fantasy Football for CASH wit FanTeam
Play daily Fantasy Football with Fan Team this season to win cash prizes. Plus, join their season-long FPL game with a €1,000,000 prize pot and the winner collecting €200,000!
If you join their cash league for €25 you will also get a €30 sign-up bonus added to your account to place on a football bet.
HOW TO GET THE €30 SIGN-UP BONUS:
1 Click this link straight to FanTeam.com
2 Click Register in the top right hand corner
3 Once you have registered and verified, deposit €25
4 A €30 free bet bonus will be added straight into your account
Relevant news