Arsenal confirm Henrikh Mkhitaryan will miss the Europa League Final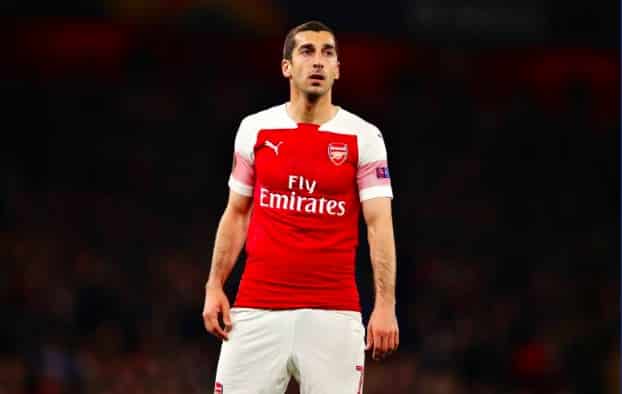 While Arsenal might be preparing for their Europa League Final against Chelsea next week, the Gunners have confirmed that midfielder Henrikh Mkhitaryan will miss the trip to Baku due to potential issues over his safety.
Armenia captain Mkhitaryan had been assured by UEFA that he would be safe during his stay in neighbouring Azerbaijan but Arsenal have concluded it wouldn't be in the best interests of the rest of the squad to have him on the trip.
As a result of the political tensions between Azerbaijan and Armenia, Mkhitaryan has previously been forced to withdraw from club matches played in Azerbaijan over the past seasons.
Taking to their social media on Tuesday afternoon, Arsenal confirmed that the 30-year-old had been omitted from Unai Emery's squad and will instead be staying put in North London.
"We're very disappointed to announce that @HenrikhMkh will not be travelling with the squad for our #UELfinal against Chelsea."

Full statement ?

— Arsenal FC (@Arsenal) May 21, 2019
Mkhitaryan forced to miss Europa League Final
Although Mkhitaryan helped Manchester United lift the Europa League under Jose Mourinho two years ago, this is not the first time that the Armenia skipper has been forced to withdraw from a squad due to political reasons.
While playing for Borussia Dortmund in 2015, Mkhitaryan did not travel for a Europa League tie against Azerbaijan Premier League side Gabala because of security concerns.
He also missed Arsenal's 3-0 Europa League win at FK Qarabag in October, with manager Unai Emery saying "he cannot travel here" despite Uefa offering their support over a visa application.
In a statement released by the Gunners on Tuesday, the Premier League side announced their disappointment and also confirmed that they had written to UEFA regarding the situation.
"We have thoroughly explored all the options for Micki to be part of the squad but after discussing this with Micki and his family we have collectively agreed he will not be in our traveling party.

"We have written to Uefa expressing our deep concerns about this situation. Micki has been a key player in our run to the final so this is a big loss for us from a team perspective.

"We're also very sad that a player will miss out on a major European final in circumstances such as this, as it is something that comes along very rarely in a footballer's career.

"Micki will continue to be part of our preparations until we depart for Baku at the weekend."
While Arsenal will rightfully be disappointed that off-field political issues have forced Unai Emery to leave one of his players in North London, the Gunners will know that their trip to Baku gives them one final chance to secure a Champions League return.
Despite only managing to secure a fifth-place finish in the Premier League this year, victory over Chelsea on May 29th will secure Arsenal a spot in Europe's elite tournament next season.
If the former PSG boss can help Arsenal come past their London rivals in Baku next week, It would be their first European trophy since they won the Cup Winners' Cup in 1994. Putting in a dominant two-legged display in their 7-3 aggregate win over Valencia in the semi-finals, you can see all our Europa League betting tips ahead of what could be a fiery encounter in Azerbaijan.
[frontpage_news widget="51511″ name="Match Previews"]
Relevant news